PRECISION DISPENSING BOTTLES INCLUDE CHOICE OF CAPILLARY TUBE TIPS
November 21, 2017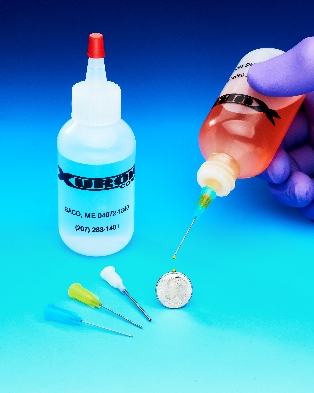 Xuron® Model 860 Precision Two-Ounce Dispensing Bottle
A new addition to their line of precision dispensing bottles that includes three color-coded stainless steel capillary tube tips for the controlled dispensing of liquids is being introduced by Xuron Corporation of Saco, Maine.
The Xuron® 860-Two Ounce (59cc) Dispensing Bottle includes three stainless steel capillary tubes with industry standard luer hubs that come in color-coded sizes for controlled liquid dispensing. Featuring a white tip with 0.040" I.D., yellow tip with 0.020" I.D, and a blue tip with a 0.010" I.D., these pliable polyethylene dispensing bottles are self-sealing to prevent spills.
Suitable for the precise dispensing of a variety of different liquids, the Xuron® 860-Two Ounce dispensing bottle with three tips is one of a series of bottles which can be purchased individually. They include the 800 Dispensing Bottle with a plastic spout, 810 with the 0.010" I.D. tip, the 820 with the 0.020" I.D. tip, and the 840 with the 0.040" I.D. tip.
The Xuron® 860-Two Ounce Dispensing Bottle with 3-capillary tube tips is available through Authorized Xuron Corp. Distributors.