BEAD STRINGER'S TOOL KIT OFFERS COMPLETE BEADING SOLUTION
December 30, 2016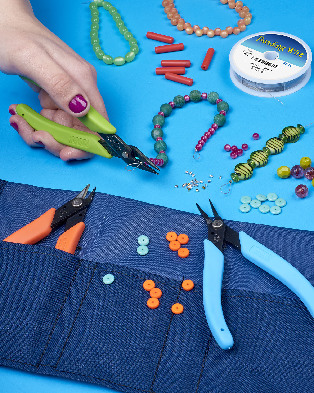 Xuron® Model TK2600 Bead Stringer's Tool Kit
A new tool kit that includes the three most popular tools used by bead stringers for cutting, crimping, forming and handling bead wire and findings has been introduced by Xuron Corp. of Saco, Maine.
The Xuron® TK2600 Bead Stringer's Tool Kit includes the Model 410 Micro-Shear® Flush Cutter for cutting soft wire up to 18 AWG (1 mm), Model 450 TweezerNose™ Pliers for grasping, bending and forming wire and the Model 494 4-in-1 bead crimper with three folding stations for 1, 2, and 3 mm crimp tubes and includes a chain nose pliers tip for holding, squeezing and picking up small beads and findings
Supplied in a handy tri-fold protective pouch, the tools in the Model TK 2600 Bead Stringer's Tool Kit are designed for optimum precision, comfort and control. Featuring non-slip Xuro-Rubber™ cushioned hand grips and Light-Touch™ return springs, they are made from heat treated, high carbon steel for strength and durability and have a slim working profile and a glare eliminating black finish.