SCALE MODEL KIT ELIMINATES RAZOR BLADES & KNIVES
May 01, 2021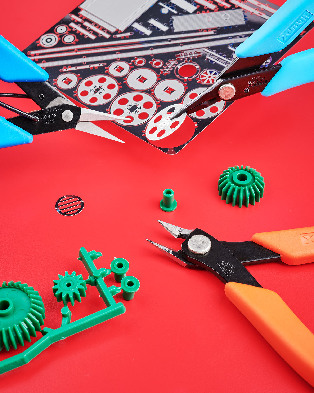 XURON(R) TK 3200 Pro Modelers Tool Kit
A precision tool kit especially designed for model builders that includes three essential tools for cutting, bending, and holding small plastic and metal parts has been introduced by Xuron Corp. of Saco, Maine.
The Xuron® TK 3200 Pro-Modelers Tool Kit contains three essential tools for model builders: a Model 2175ET Sprue Cutter, Model 9180ET Scissors for photo-etch cutting, and Model 450 TweezerNose™ pliers for forming, holding, and inserting parts. Eliminating the need for razor blades and knives, the tools come in a canvas pouch with handy pockets for protecting each tool.
Ideally suited for advanced scale model builders who need to precisely cut and manipulate small plastic parts and thin photo-etched metal pieces without deformation, the Xuron® TK3200 Pro-Modelers Tool Kit will last for years. The tools are made of high carbon steel with a non-glare finish, Light-Touch™ return springs, and Xuro-Rubber™ soft cushioned rubber grips.
The Xuron® TK 3200 Pro-Modelers Tool Kit is manufactured in the USA and available through Local Model hobby shops.