What's better than having all the tools you'll need for making beaded jewelry on your workbench? How about if we wrapped them in a convenient, durable pouch, ready to grab and go so you can easily use them anywhere?!!
Xuron's TK 2600 Bead Stringer's Tool Kit contains three tools most in demand by bead stringers. The models 410 Micro-Shear® Flush Cutter, 494 Beading Crimping Pliers, and the 450 TweezerNose™ Pliers. These tools are packaged in a sturdy canvas pouch that keeps them clean and protected when not in use. It even has two extra spaces that can be used to store tweezers or a file.
Let's look at each tool separately:
410 Micro-Shear® Flush Cutter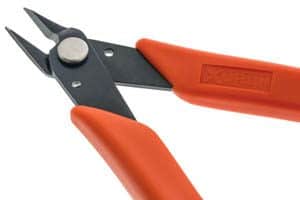 The slim profile and precise tips of this flush cutter make it ideal for cutting beading cable, like Soft Flex® or Beadalon® brands. Use it like an extension of your hand to reach into restricted areas and trim cable close to findings and beads. Easily cut up to an 18 gauge (1mm) soft wire.
494 Four-in-One Bead Crimping Pliers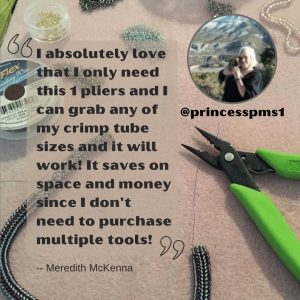 This amazing pliers is a game changer! It creates strong, professional, attractive crimps in three different sizes plus the tip functions as a precision pliers. If your old crimpers require careful, tedious maneuvering and leave you with less than secure crimps, you're in for a treat with our model 494 Four-in-One Beading Crimping Pliers.
It precisely crimps/folds 1, 2, and 3 millimeter crimp tubes. The chain nose pliers tip handles delicate beads, micro-crimps and can be used for adding an extra squeeze to your crimps, if desired.
As with all Xuron® Pliers, the 4-in-1 Crimper has soft rubber hand grips and a return spring that opens the tool after each squeeze.
450 TweezerNose™ Pliers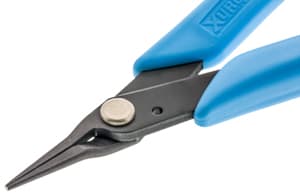 This versatile pliers is perfect for intricate work. Actually, you'll find yourself picking them up again and again because they come in very handy whenever you're working with wire.
Its very fine, precise "tweezer" like tips will handle the most delicate parts, but are strong enough for forming and bending operations. The model 450's smooth blades will not mark or damage your wire.
Our customers tell us they are incredibly comfortable to use, and ask if it's weird to get so excited about these strong, yet delicate pliers!
A Variety of Jewelry Making Tool Kits Available
In addition to the TK 2600 for making beaded jewelry, we have a specialty pliers kit for chainmaillers and another for metalsmiths. You'll find them all here: https://xuron.com/blog/hobby-tools/jewelry-making-tools/
Where can you find genuine Xuron® tools?
The TK 2600 Bead Stringer's Tool Kit, and all Xuron® tools are available through local craft and beading shops, as well as online through authorized suppliers of quality jewelry tools. Find our International list of authorized suppliers in our continually growing guide "Where Can You Buy Xuron® Tools?"
Are You on Instagram, Facebook, or Twitter?
We love featuring the creative work of our customers! Make sure to hashtag us with #MakeItXuron for an opportunity to be featured on our newsfeed, website, and/or email. Show us your gorgeous beading creations!