For all hobbyists, tools are an important part of the creative process. Whether you're a beginner or advanced scale model builder, it's more enjoyable when you have the right tool for the task at hand. When your basic modeling tools can be found in one Xuron® Modelers Tool Kit, that's even better.
From One Scale Modeler to Another
As a scale modeler myself, I like it whenever I can make tasks easier and still achieve the results I want. This starts with using the Xuron® #2175ET Sprue Cutter to remove both robust and delicate parts from the sprues without damaging them. Lesser tools pinch and tear, which is the primary cause of damage to plastic parts being removed from the sprue. But I return again and again to the #2175ET, relying on it, right through to the final stage where the "fiddly bits" are added.
Advanced Scale Modeling
If you are building an advanced skill level kit, one that includes photo-etched parts, or have purchased them as an add on accessory, you know that the photo-etch often costs as much as the kit itself. Because of this you'll want the Xuron® #9180ET PE scissors for precision cutting without bending or twisting of the piece being removed from the fret. Once a piece of PE is damaged, it is almost impossible to undo the damage. (Tip: Click to see the proper technique for using this #9180ET photo etch cutting tool.)
The #9180ET makes removal of even the smallest part from other tightly spaced parts on the PE fret easier. Its long sharp jaws allow one to literally shave a minute amount from a part without damaging it. This is very useful when trimming PE parts that are to be inlaid into a recessed area on a plastic part such as a dashboard, door or well.
Gentle, but Firm
Lastly, having a tool that allows you to hold, place and manipulate a small part or piece, whether it is plastic or photo-etch, is a much appreciated plus. A needle-nose pliers that is strong, yet delicate in its ability to hold onto the smallest part is necessary for every scale modeler. And that's just what you'll find with the Xuron® #450 Tweezernose™ Modeling Pliers.
All Three in One Xuron® Tool Kit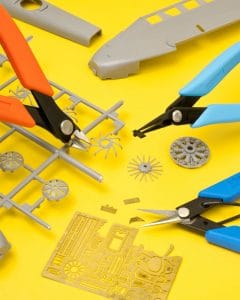 So, how does one find all three tools in one package? Easy, the Xuron® Professional Modeler's Tool Kit #TK3200 includes the #2175ET Professional Sprue Cutter, #9180ET Professional Photo-Etch Scissors and the #450 Tweezernose™ Pliers, all together in one set. They come packaged in a protective canvas pouch to keep them safe and organized.
The #2175ET and the #9180ET are designed to cut parts cleanly without residue, making it easier and faster to prepare the parts for assembly. And the precision needle-nose jaws of the #450 remain perfectly aligned to ensure the part is secure while being held and positioned, whether you are trimming, sanding, painting or placing the part on the model.
Precision and Durability
Both the #2175ET Professional Sprue Cutter and the #9180ET Professional Photo-Etch Scissors were designed by a scale modeler for scale modelers. The #450 Tweezernose™ Pliers was designed initially for the electronics industry for the handling of delicate and tiny parts, such as the components found on circuit boards. But this tool has now crossed over into all categories of the hobby market. Each tool in this Xuron® Tool Kit offers both precision and durability.
Do you have a favorite Xuron® tool? Let us know in the comments below.