At Xuron Corporation, we are known for our Micro-Shear® Flush Cutters and precision pliers. We also manufacture highly efficient Wire Strippers / Cutters, designed to meet a wide range of applications.
Whether you're in wire harness manufacturing, factory maintenance and repair, or simply changing a lighting fixture, it's imperative to strip the outer jacket of the wire before joining or installing connectors.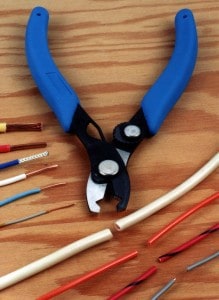 Xuron® Model 501 Wire Strippers / Cutter: Versatile and Reliable
The Model 501 is a dependable workhorse that effortlessly strips and cuts both solid and stranded wire. You don't need to know the exact size or type of wire you're working with; as long as it falls within the range of 10-26 AWG (2.56 mm – .405 mm), this tool has got you covered. Adjusting the tool is a breeze with its convenient round dial (cam) – no screw or nut tightening necessary. Once set, the cam stays securely in place until you move it again. What's more, this tool includes a built-in, full bypass wire cutter for added convenience, eliminating the need for multiple tools.
Xuron® Model 501AS Wire Strippers / Cutter with ESD Safe Grips: Anti-Static Protection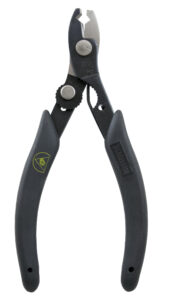 For those occasions when you require an antistatic version, the Model 501AS is available. This model features black grips imprinted with the ESD safe symbol in yellow.
Introducing Xuron®'s ESD Safe Grips: Protection for Sensitive Electronic Components
Our ESD Safe grips, made from injection-molded Xuro-Rubber™, comply with ANSI/ESD.S20.20 and DOD-HDBK-263 standards. With a surface resistivity of 10(6)-10(9) ohms, the grips efficiently protect electronic components from static discharge. They are also REACH and RoHS compliant, and resistant to chemicals, oils, and solvents, making them ideal for environments with potential exposure to these substances. Therefore, ESD-safe grips are indispensable for those working with sensitive electronic components.
Choose Xuron® for Your Wire Stripping Needs
When it comes to wire stripping, trust the Xuron® brand. For a list of Authorized Distributors or a local Manufacturer's Representative, please contact sales@xuron.com.