A few years ago we had the pleasure of exhibiting next to Mary Soucy at the Bead & Button Show.   We chatted with Mary and her mom and discovered not only are they two of the nicest ladies you'd ever meet but Mary is an avid Xuron user!  Mary Soucy is an incredibly talented designer and instructor.  She is enthusiastic and exudes passion for her craft.  She has an impressive creativity that blurs the lines of chainmailling and beading; resulting in a final product that has an elegant bead-woven aesthetic.
I recently had the opportunity to ask Mary Soucy a few questions about creating, chainmaille, tools and more…
What inspired you to begin creating? How did you start working with jump rings and chainmaille?
I have always lived in my own little world.  As a child I danced everywhere with no notion of anyone around me.  In my teen years I was into acting and music.  It was during my college years that I took a class in sculpture and everything changed.  My passion for jewelry making began a couple years later when I joined a bead society in Winston-Salem, NC.  I met wonderful friends in this very artistic bead society.  No one followed any patterns which meant that everyone designed their own original bead designs.
Since I began jewelry making, I've experimented and worked with a lot of mediums.  I worked with bead weaving and stringing as well as making my own beads with both polymer clay and glass.  When my line of polymer clay beads was published and became popular, I started having some items manufactured for me to go with my beads.  It was then that I finally started messing around with chainmaille.  Something about it just fit with me.  I like how it continues to challenge me; there is always more to learn, but at the same time, chainmaille is pliable and easy to design with.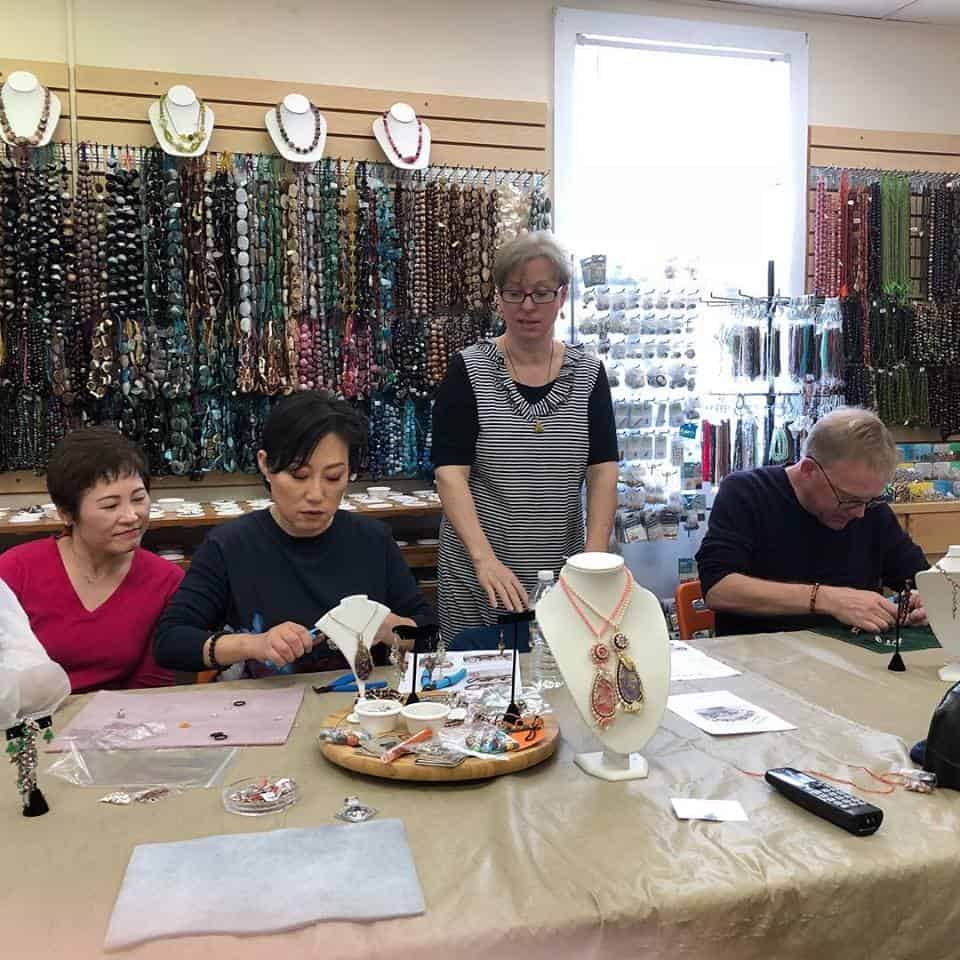 You use more than metal rings in your work; can you tell us more about the unique materials you work with?
Our most popular items are EPDM rubber o-rings.  I spent years developing the colors and sizes in this line for both chainmaille artists and other jewelry making and hobbies.  They work well with leather, knitting, glass and making fingerboards just to name a few.   We also carry a wide selection of rhinestone montee beads.  The benefit of the glass rhinestone montees that we carry is that I can offer designs in a huge array of colors.  Color makes it possible to create glamour as well as whimsy.
Most recently, we've started carrying seed beads that can work with jump rings.  Seed beads have exploded into a huge selection of finishes and shapes over the past 10 years.  I find that chainmaille can really show off the seed beads to their full potential because so much of the bead is visually exposed.  The finishes on the glass really pop next to metal jump rings.  Those are just some of the items we carry, but I'm always on the lookout for the next thing that can complement a stunning chain.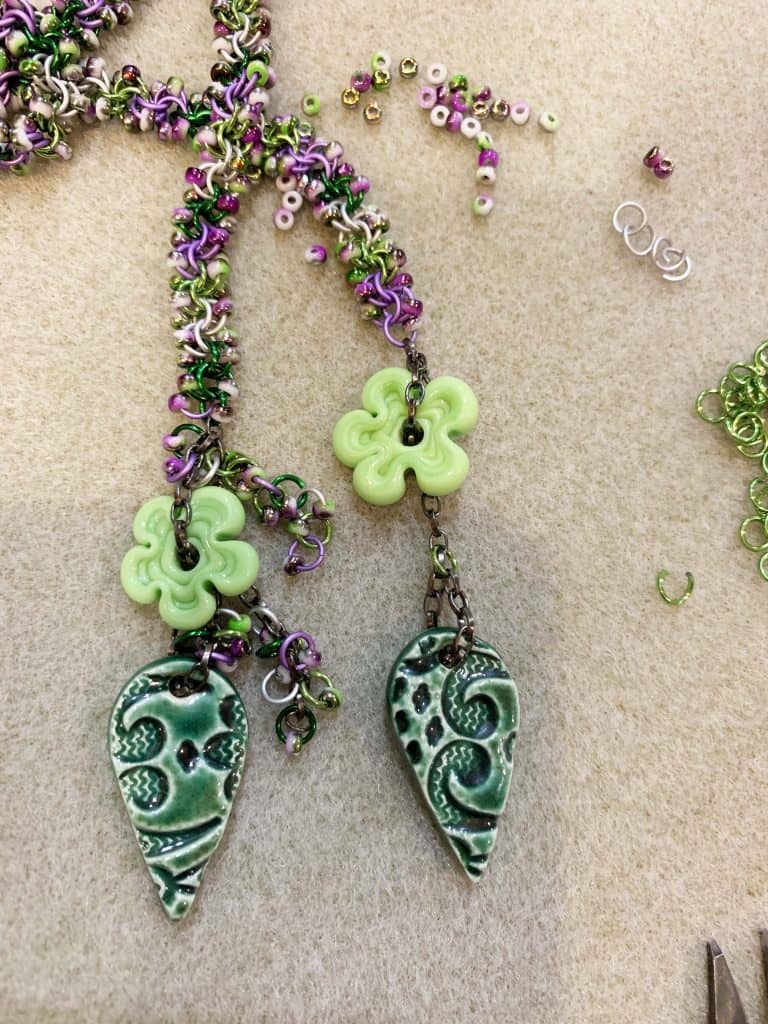 What do you find the most gratifying about designing and creating?
It's the lightbulb moment.  I'm always astonished when the lightbulb comes on in my head and some new idea emerges that has never been there before.  I read a lot of detective stories; it fascinates me how the detective gathers all the clues together and then finally that moment arrives when the detective figures out who did it.  For me, creativity is very much the same.  I gather ideas in my head and journal over time waiting for that special moment when a design will emerge.  It fascinates and thrills me every time that lightbulb turns on.
Besides jewelry making what are you passionate about?
When it's time to step away from my work, I've found cooking allows a wonderful short-term escape.  I love recipes and cooking techniques.  You can travel the world in your own kitchen.
I also love books and movies.  Anywhere there is a great story.   Victorian era detective stories and fantasy books are my favorites, but I love any author that can transport you to a different place and allow you to immerse yourself in the story.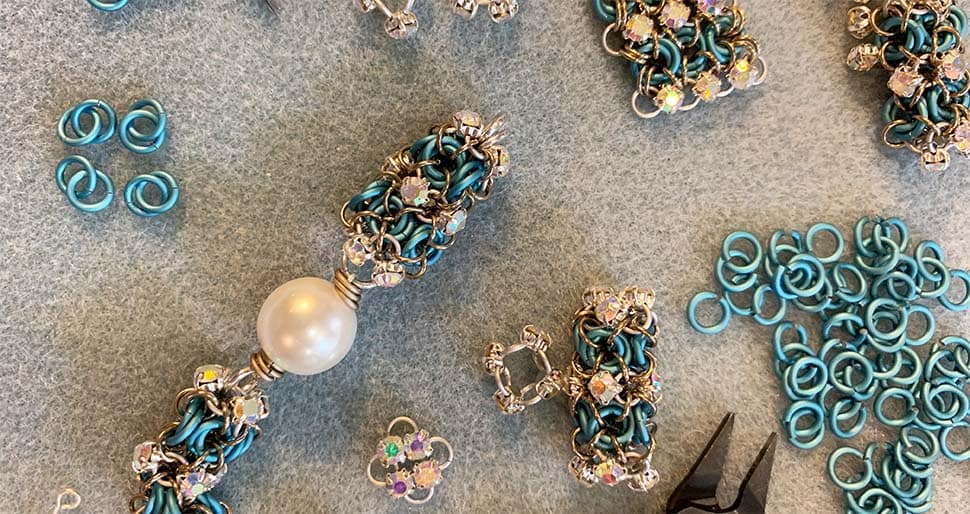 What is your creative process? How do you develop new designs?
I took a course in The Artist's Way a long time ago and use many of the techniques from the book to keep myself moving.  The most important habit I cultivated was writing Morning Pages.  I have been doing morning pages since 1996.  My morning coffee and my journal, that's where a lot of things happen.  I gather my ideas each morning, plan my day, plan my classes and draw up ideas.  It's the place where I can store everything from fleeting thoughts to specific material lists.  It is my place to dream while awake.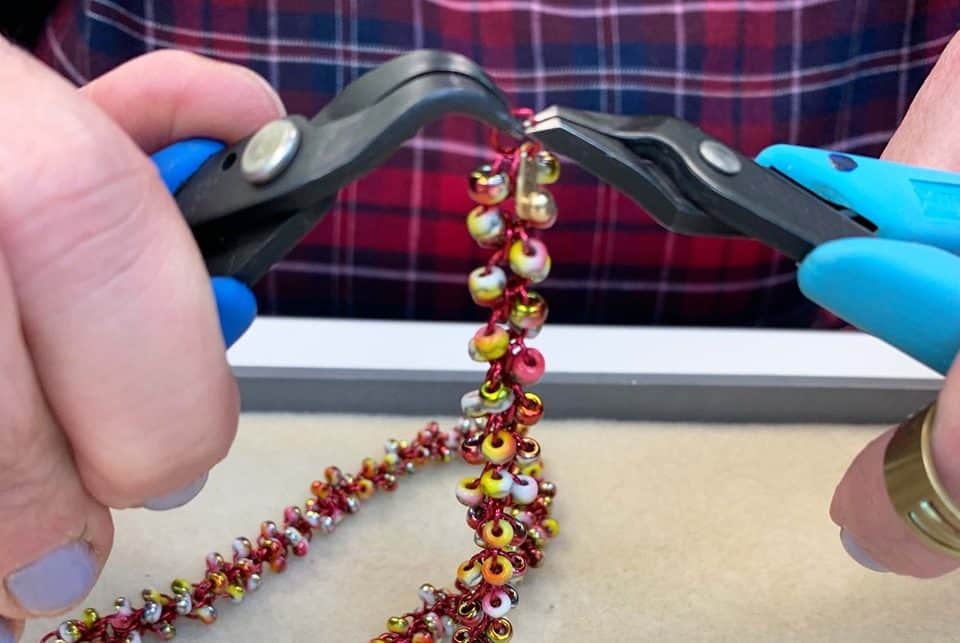 Do you have a favorite tool?
I have 3 favorite tools.  I usually have a pair of chisel nose pliers (487) in my right hand and 90 degree bent nose (486) in my left hand.  I often work with small materials, so I use the chisel nose pliers with the point down instead of up.  This gives me a good grip while still allowing me to have a very small point with which to grasp a jump ring.  The 90 degree bent nose is big enough to get a good grip in my left hand but the bend allows me to see well.  Finally, when I get into a tight and tricky situation, I like to have the Bent Nose (450BN) available.  These are so small I can get into almost any spot to get a jump ring closed.
Click here for more pliers info.
What else do you like about Xuron tools?
As someone who teaches, I've learned that beginner students do best with Xuron pliers due to the non-slip nature of the metal on the tips.  I've had many students put down more expensive pliers during class and work with the Xuron pliers instead.  These pliers help them to grip jump rings better and avoid scratching the finish off anodized aluminum jump rings.
To find out more about Mary Soucy visit BeadMeAStory.com