Not to say that any of you, our wonderful customers don't treat your Xuron® tools like gold and take the very best care of them, but sometimes it's nice to share a few  tips for care and maintenance: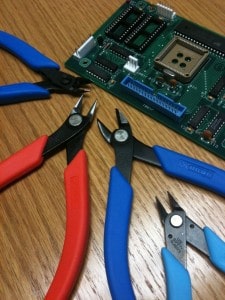 This sounds very elementary but the best way to extend the life of your Xuron® tools is be sure to use them for their recommended purpose.  For instance, our popular model 2175 Maxi-Shear™ Flush Cutter will cut soft wire up to 12 AWG (2mm) but if you try to cut a piece of hard wire with it, the sharp cutting edges will dent (FYI – we have a hard wire cutter for that type of work, Model 2193 or Model 2193F).
Storage.  Always try to store them where they will be free from moisture.  If you work in a humid environment you can apply some light rust preventative oil (here, we use a product called, Rustlick™) to the tool providing it won't contaminate your work.
Keep the moving parts lightly oiled.  Occasionally apply a small dab of WD-40® to the rivet joint – this will keep it moving freely.
Got another great tip to share?  We'd love to hear your comments.