Wire wrapping is a fun, creative process that allows you to create your own unique piece of jewelry. It requires patience, skill, and precision – but it has never been easier with Xuron® tools! In this blog post we will discuss the different Xuron® tools for wire wrapping and give some tips on which ones work best and how to use them to produce beautiful pieces with ease! And finally, we'll mention a couple of non-Xuron products that are also worth checking out.
We've asked Sandra Dotson of Entangled Co to collaborate on this article. She has worked with wire for over four years and creates unique and beautiful jewelry designs using advanced wire weaving techniques. You'll see her tips throughout this article and her full bio near the end. Make sure to read ALL the way to the end to see how you might win one of the tools discussed below!
What Tools Do You Need to Wire Wrap?
In order to get started, you will need a few basic tools. These include flat nose, chain-nose, and round nose pliers, as well as flush cutters for soft wire. Read on to learn more about each of these tools.
Essential Xuron® Tools for Wire Wrapping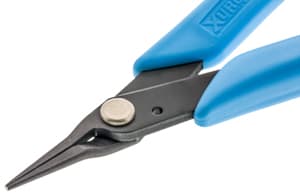 450 TweezerNose™ Pliers
The Xuron® 450 TweezerNose™ Pliers has fine, precise tweezer-like tips, making it useful for the more intricate aspects of wire wrapping jewelry. Although it looks delicate, the 450 is strong enough for bending and forming wire. Its smooth blades will not mark or damage your wire.
485 Chain-Nose Pliers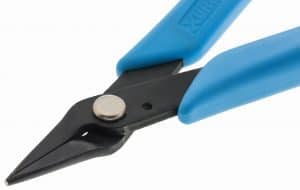 Xuron®'s Model 485 Long Nose/Chain-Nose Pliers feature the tapered jaws and pointed tips you'd expect, but lack the bulk of traditional chain nose pliers. Its excellent balance of precision, strength and dexterity makes it ideal for working with jump rings, bending wire, and finishing your wire wrap. The 485's soft ergonomic handles are comfortable to use and easy on your hands.
485FN Flat-Nose Pliers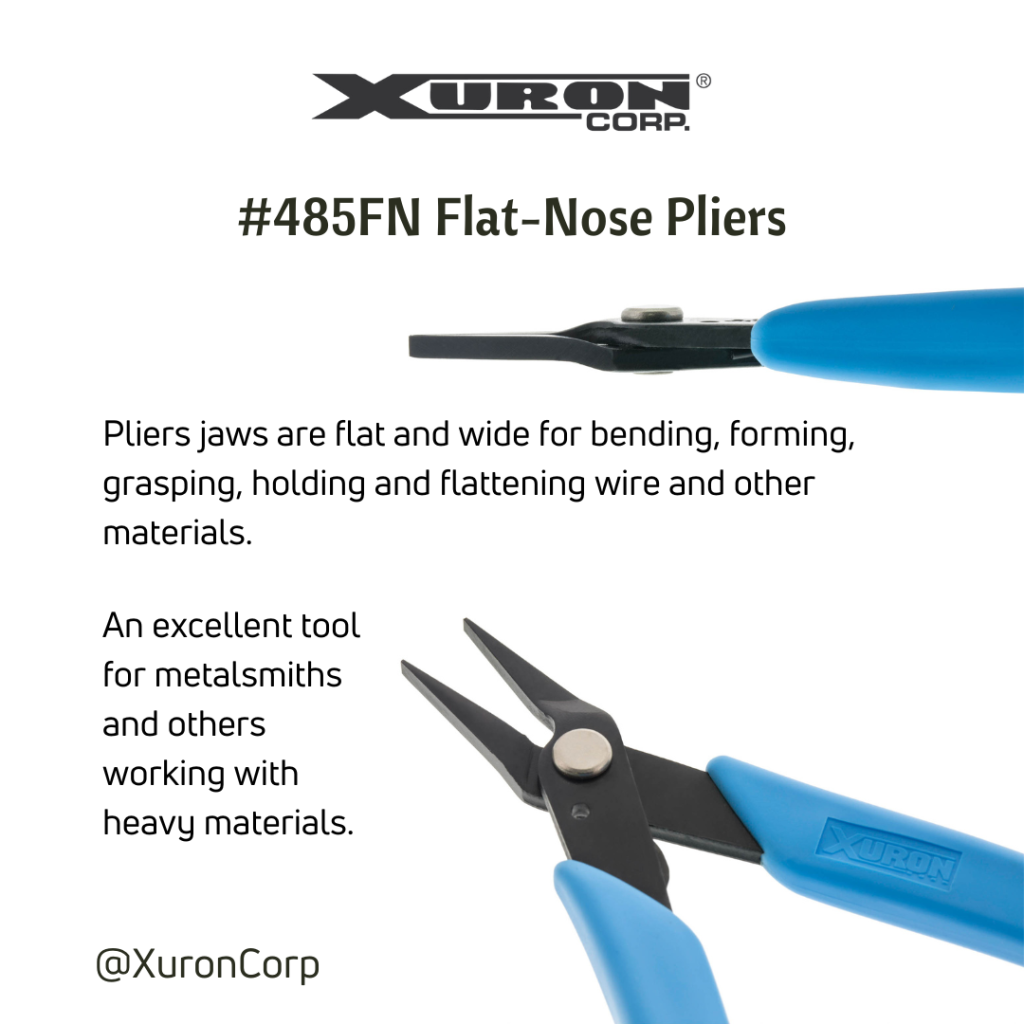 The Xuron® 485FN Flat-Nose Pliers are similar to the Chain-Nose, but with a wider, flat jaw. It allows you to apply more force over a wider area. Use the 485FN for bending and finishing.
488 Round-Nose Pliers
The Xuron® Model 488 Round-Nose Pliers is the perfect tool for creating loops and soft curves with your wire. This durable, versatile pliers makes wire wrapping a breeze. Its round blades transition to an elliptical shape giving you endless possibilities in creative design. The 488's steel construction ensures that blades stay aligned during use – meaning no more crossed tips.
Flush Cutters for Making Wire-Wrapped Jewelry
Flush cutters are essential for wire wrapping. No cutter is perfect and some filing is always required to get those perfectly flush ends but the better your cutters, the more time you can save yourself. ~ Sandra Dotson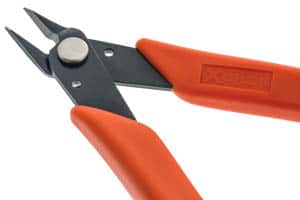 410 Micro-Shear® Flush Cutters
Xuron® Model 410 Micro-Shear Flush Cutters are perfect for cutting soft wire up to 18 AWG (1mm), making them ideal when working with flexible stranded bead or craft wire, as well as German-style wire used for jewelry making. With its precision-ground jaws, the Model 410 provides a clean, flush cut every time.
2175 Maxi-Shear™ Flush Cutter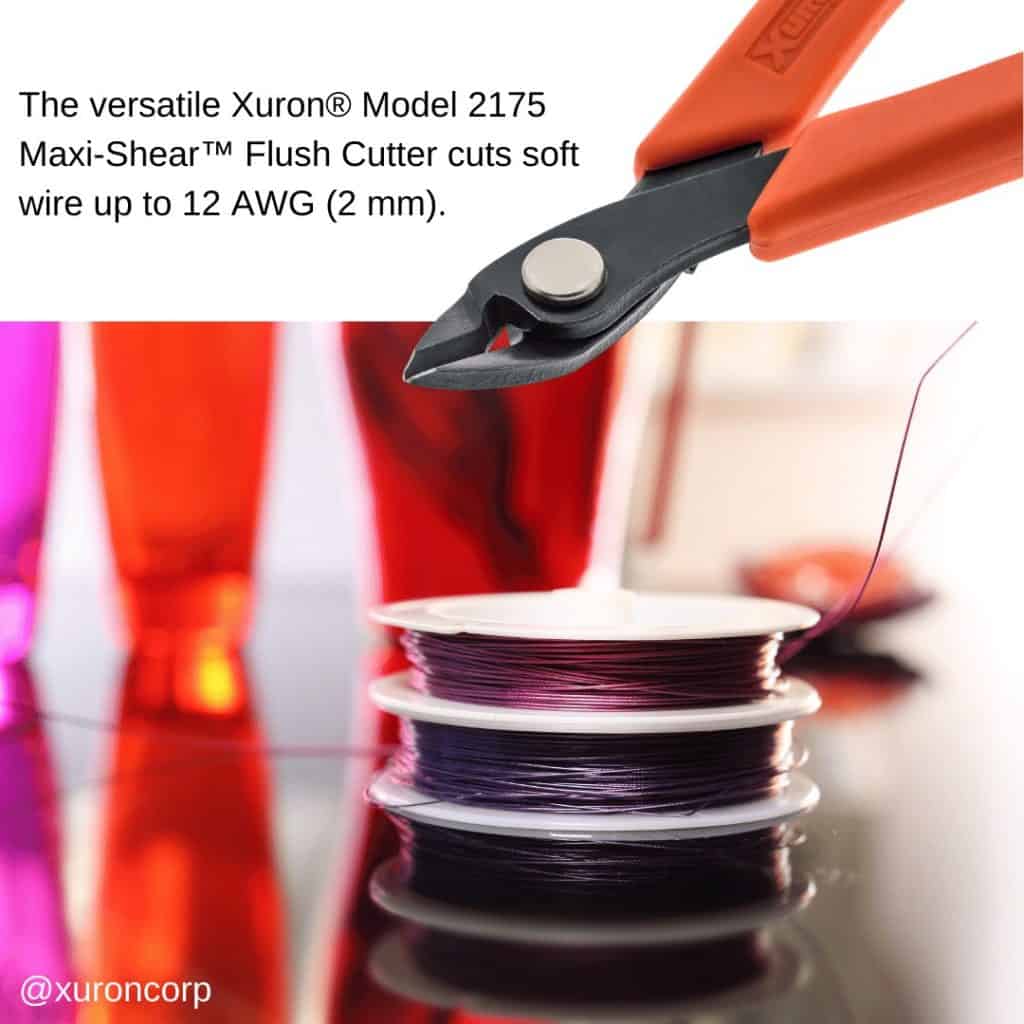 If you need a flush cutter that can handle thicker gauges of soft wire, look no further than the Xuron® Model 2175 Maxi-Shear™ Flush Cutter. This durable and comfortable tool is perfect for jewelry makers or metalsmiths who need a durable and comfortable tool. With its longer handles, the 2175 can easily cut up to 12 gauge (2mm) soft wire. Its precision blades make clean, flat cuts every time.
Learn more about the variety of flush cutters we manufacture and how to choose your best option here: Micro-Shear® Flush Cutters FAQ
More Jewelry Tools – Useful, but Not Required to Get Started
450BN Bent TweezerNose™ Pliers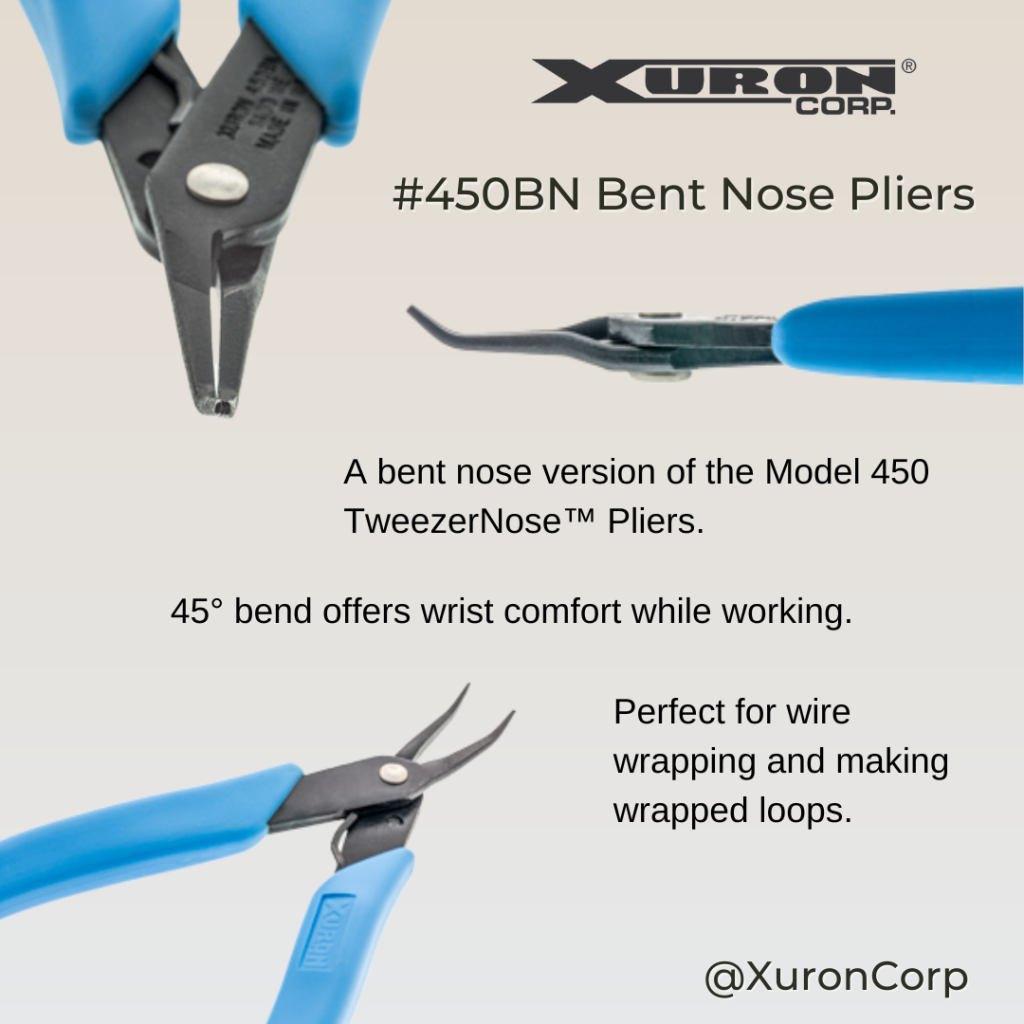 The 450BN Bent TweezerNose™ Pliers tips are bent at a 45-degree angle to provide the best sight lines when working in tight areas or handling small objects. Its blades are perfectly aligned and strong enough for forming and bending.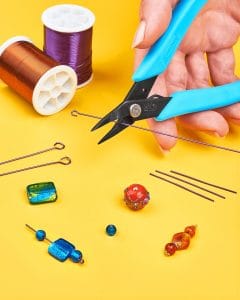 485C Combination Cutter/Chain-Nose Pliers
The Xuron® Model 485C Combination Shear/Chain Nose Pliers offer the perfect combination of a full bypass shear cutter and precision chain nose pliers in one tool. These heat treated, durable high carbon steel blades allow for a cutting range from the smallest wire up to 12 AWG (2.05mm) soft wire. The pliers' blades are tapered for access into tight, restrictive spaces. Its rounded outside edges form wire without damage or scarring. With the 485C, you'll have everything you need to tackle any jewelry making project, big or small.
489 Combination Tip Pliers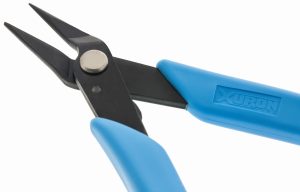 The Xuron® Model 489 Combination Tip Pliers is a versatile and easy-to-use jewelry making tool. With both a round tip and flat tip, it can be used for bending, forming or looping wire into virtually any shape.
These are my personal favorite and unique to Xuron®. The combination tip allows me to make super tiny and super accurate loops with pretty much any size wire. I waited so long to buy them because I was skeptical and I regret not getting them right away. They are perfect for wire wrapping and I find myself reaching for them a lot. ~ Sandra Dotson 
Nylon jaw pliers
Though not a Xuron® product, nylon jaw pliers are readily available through all craft and jewelry supply retailers. Sandra Dotson explains why you should consider adding one to your collection:
Nylon jaw pliers are a great tool to have in your collection. They can help compress woven parts and protect your project from accidental marks that other pliers might create. ~ Sandra Dotson
Tool Magic®
Sold by The Bead Buddy, Tool Magic® is a non-permanent rubber coating for Jewelry Tools. Dip the jaws of your pliers into it to prevent tools from marring and scratching wire designs. While not a substitute for nylon jaws, it's an option that you may find useful. Learn more about this product here: Tool Magic®
You Can't Wrap Without Wire
Choosing the right sized wire for your projects
Of the three types of wire used for wire wrapping and weaving, craft wire is recommended for beginners due to its accessibility and affordability. It has a base metal core covered by a thin layer of precious metal. The downsides are that over time the color may change, plating may rub off, and it's not suitable for advanced techniques.
The next level up is filled jewelry wire, which also has a base metal core, but its surrounded by a thick layer of precious metal. And for advanced jewelry making, most use solid jewelry wire which is made from a single metal or alloy.
Wire Hardness
In addition to wire type, it's important to consider its hardness or temper. There's hard wire, which is not typically used for wire weaving or wrapping; half-hard, which is great for structural elements such as ear wires; and dead soft, the most malleable and best used for weaving and wrapping.
Be aware that wire hardens as you work with it, can be softened by annealing, and has a breaking point. Craft wire cannot be annealed. Each metal has a different hardness associated with it. For example, a dead soft copper wire is softer overall than a dead soft sterling silver.
Wire Gauge (Thickness)
We specify the wire hardness and gauge that each Xuron® cutter will handle using AWG and size in millimeters. Pushing beyond these stated gauges of wire will damage the blades, so make sure you refer to these numbers before attempting the cut.
Typical gauges in wire weaving and wrapping are 26, 28, and 30 AWG as weaving wires. These are very fine. Base wires require a medium thickness wire of 16, 18, and 20 AWG. The smaller the gauge, the thicker the wire. Choose your gauge based on your skill level and project.
Parawire Jewelry Craft Wire Supply is one source we recommend.
Tips for Beginners by Sandra Dotson (Entangled Co.)
Using pliers is essential when working with wire. However, your fingers are your most valuable tool. Think of pliers like an extension to your own fingers. They help you get into tight corners that your fingers can't reach, they give you more leverage where your fingers are not strong enough, etc. But why am I mentioning these somewhat obvious things? Next time when you use your pliers, try to use them as an extension of your fingers instead of their own individual thing. Move the wire around your pliers using your fingers instead of trying to move the pliers. This gives you more control over the wire. See how this is done in the following short video:
Pliers are usually made of metal, so when using them on wire which is also metal, there is a risk of scratching or otherwise marking the wire. Keep this in mind when using your pliers. Maybe in certain situations adjusting your grip strength is wise. You can also wrap some painters tape around your project or the jaws of your pliers for added protection. Sometimes the handles of the pliers make for a good alternative as well. The Xuron® grips are so soft but still sturdy they make for a great extra tool. To see this in action, watch this short video.
Thank you, Sandra, for your collaboration on this article!
Sandra Dotson makes wire woven jewelry. She is a California resident and a German native. Her background is in computer science and retail sales though she is currently at home with her toddler while running her small business Entangled Co on the side.

Sandra makes unique, one-of-a-kind jewelry such as pendants, bracelets, earrings, and much more. She focuses on craftsmanship and unique designs incorporating intricate details and weaving techniques. Sandra has been working with wire for 4+ years. 

Connect with Sandra on Instagram: @entangledco

It's Giveaway Time for Xuron® Jewelry Tool News Subscribers!

Would you like to win one of the tools in this blog post? You just might, but only if you're a subscriber to Xuron® Jewelry Tool News!

It's a sweet deal, really. You get a periodic newsletter with tips for jewelry makers AND automatic entry into any of our jewelry tool subscriber-only giveaways. What's not to love about that?!! Enter below before July 11, 2022.

Xuron® Tool Giveaways, Jewelry Making Tips & More!

Register for our FREE updates

We'll send you a periodic update.
Don't worry, it's not the least bit annoying.