Did you know that Xuron® Models 2193 and 2193F Hard Wire Cutters are the only tools you should use for cutting memory wire, steel, or other types of hardened wire?
If you cut hard wire with any of our other flush cutters, you'll have disappointing results. It'll also leave telltale dents in the blades and void their warranty.
But the 2193 and 2193F, two versions of the same tool, are manufactured to withstand the hardness of hard wire without denting.
Their blades are thicker than those of our other flush cutters, and they completely bypass each other. The end result is a clean break of the wire, rather than it being squeezed in order to cut. Both the cut and cut-off pieces of wire will be near perfectly flat requiring little to no post-cut clean up.
Both models work equally well on round and flat memory wire. They are designed for use on different types of hardened wire including stainless steel, spring, and music wire. The 2193 cuts hard wire up to .040" (1 mm) diameter and the 2193F takes it one step further, cutting up to .064" (1.45 mm) diameter wire. Note: these models also work great cutting brooch pin backs.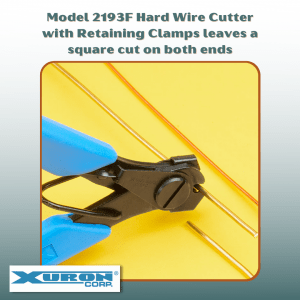 So what's the main difference between them? The 2193F has self-adjusting wire retaining clamps that hold both ends of the wire perpendicular to the jaws throughout the cut. This produces a square cut and reduces the possibility of wire pieces flying across the room.
Subscribers Always Win!
If you are a new or active email subscriber to our Jewelry Tools Newsletter, you could win our Model 2193F Hard Wire Cutter with Retaining Clip. Current subscribers are automatically entered. But if you're not yet a subscriber, you only have until July 16, 2021to sign-up and confirm your email address. Winner will be notified by email the following week and will have 48 hours to reply to claim their prize. In the event of an unclaimed prize within this timeframe, the original winner chosen will forfeit their prize, and a new winner will be randomly selected.