Three tools no model railroader should be without are a good serrated pliers, a Micro-Shear® flush cutter, and a trustworthy, precise track cutter. Wouldn't you agree?
And there's never been a better time to lay your hands on all three than right now!
The TK 2200 Tool Kit features the Model 450S TweezerNose™ Serrated Pliers, a Model 410T High Precision Micro-Shear® Sprue Cutter, and the Xuron® Model 2175B Track Cutter.
Tools are bundled together in a convenient and durable tri-fold pouch that keeps them clean, protected and organized. The pouch even has two unused narrow pockets ideal for storing tweezers, or a straight edge hobby knife.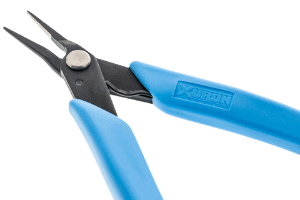 Precision Pliers for the Model Railroader
All Xuron® pliers have finely-shaped, tapered jaws that align perfectly with each other for a secure, "no-twist" grip. Fine serrations in the jaw surface of the Model 450S TweezerNose™ Serrated Pliers let you pick up and hold objects gently, yet securely, without excessive, damage-causing pressure.
Its pivot-points are optimally placed for just the right leverage, and the handles have just the right "feel," so that you can apply the gentle, controlled grip you need to hold small, soft parts without damage.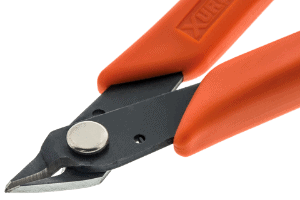 High Precision Micro-Shear® Sprue Cutter
The Model 410T is ideal for plastic sprue cutting and general wire work. Its tapered tip makes it easy to access extremely restricted spaces. This will cut soft wire up to 22 AWG (0.64mm). You'll find the soft Xuro-Rubber™ grips and Light-Touch™ spring provide you a precision feel and all day comfort.
Let's Not Forget the Track Cutter!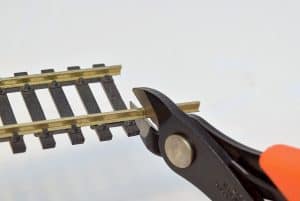 Ask any model railroader and they'll tell you about the Xuron® Model 2175B Track Cutter. Its jaw blades are designed to cut through the HO, N, and Z scale rail from top-to-bottom.
The 2175B leaves cut ends of the rail practically burr-free, so clean-up is not required. One end will be flush, straight and smooth; the other will be rough. Simply turn the tool around and cut again to clean up the rough end. This tool will cut solid nickel-silver or brass rail up to code 100 (.100") high.
Makes a Great Gift for Anyone Who Loves Model Railroading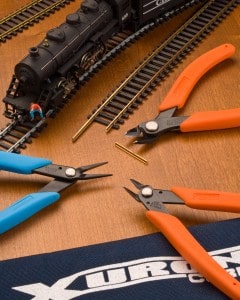 Father's Day is right around the corner, but model railroading is in no way limited to the guys. Folks of all ages love building creative layouts! My personal favorite thing about this hobby is the story behind each layout … recreating a slice of history or a special memory.
We Want to Connect with You!
Are you on Instagram? Drop your profile link in the comments and connect with us at @XuronCorp. Tag us in your layout images for an opportunity to be featured. Bonus points for using the hashtag #MakeItXuron – your post will automatically be seen by anyone who lands at MakeItXuron.com!
You'll also find us @XuronCorp on Facebook and @Xuron on Twitter.