Chapter 2 of Our Awesome Weekend of Beads
There are a lot of things I like about a trade show but one of the most enjoyable is having the opportunity to meet new people and catch up with old friends. Yes, we're all there to do business but the importance of the social component cannot be underestimated.
While this may sound odd to some, I always look forward to seeing Rob and Mike from Lindstrom®.  They are a friendly competitor and have been very generous with their support of Xuron®.  They refer customers to us and we reciprocate (their round nose plier is in my personal tool box). This was their first year at BeadFest and judging by the activity at their booth, I'm guessing they'll be back.
Katie Hacker, the host of the PBS series , Beads, Baubles and Jewels, stopped by our booth for a chat.  This was my first time meeting Katie and I found her to be genuinely sweet, funny and very smart.  We may have more news about Beads, Baubles and Jewels next time!
Anyone who meets Andrew Thornton can't help but be enchanted and I think that word also best describes his work (enchanting).  Andrew is multi-talented – he sculpts, creates jewelry, blogs and operates a gallery featuring a mix of art and jewelry.  And, he likes cats — enough said.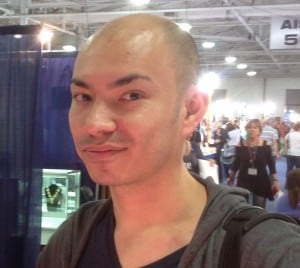 Ok, now the shopping.  Confession – I'm a terrible shopper. I should have come home with a suitcase full of interesting things but I didn't and I regret it now.  My one purchase, which I do not regret, is this fun bracelet from Elements by Yvonne.  Yvonne's style is colorful, fun and funky!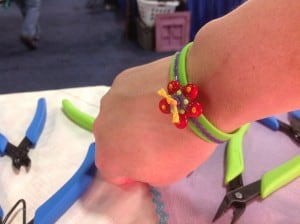 Ashley is a good shopper — she she knows what she needs to have and she also has a good eye for locating interesting and unique findings and beads.   A few of her favorite shopping spots include, Dakota Stones, Sew-On Crystals and Metallifferous.
 Who do you enjoy meeting at trade events and what are your favorite shopping spots?