When I first heard that the HMA (Hobby Manufacturer's Association) was moving the annual iHobby Expo from Chicago (Rosemont), Illinois to Cleveland, Ohio, I was, to say the least underwhelmed.  That feeling, however, lasted about 5 minutes.  I had to put aside my "creature of habit" attitude and realize that a new venue is good for everyone — especially the consumers in the Cleveland area that will have the opportunity to experience this event and meet with major hobby product manufacturers (like Xuron Corp)!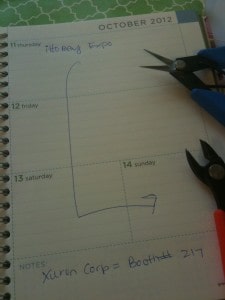 I have no idea what to expect from the show this year and I like that.  I like that a whole new group of consumers will get to visit our booth and get a hands on Xuron® tool demonstration.  I like that my cost of exhibiting is a bit lower.  I like that I get to go to Cleveland!
One of the really fun, and popular features of iHobby is the make & take project (s).  These are FREE and will allow your son/daughter to enjoy some time learning basic modeling skills and go home with a completed project
Who's going to visit us in Cleveland?
Cleveland IX Center
October 11-14, 2012
Xuron Booth # 217