Beading crimping does not have to be the least favorite part of your stringing project.
When we developed our Model 494 Four-in-One Beading Crimping Pliers the goal was to make something that performed well, was easy to use, and offered something extra. We achieved this by making a crimping pliers capable of folding and crimping three different size crimp tubes (1, 2 and 3 mm) and includes a chain nose pliers at the tip.
(Read all the way to the end to discover how you could win this useful bead crimping tool!)

Designer and Xuron® tool user Lena Gillespie, Lena Gillespie Design shares her experience with our Crimping Pliers:
"If you haven't tried the Xuron #494 Crimping Pliers what are you waiting for?
When I started jewelry making years ago I had no idea what a crimper even was. The one that came in my starter jewelry tool kit was not a great design and I actually avoided crimping & stringing because they didn't work like I wanted them to. Totally frustrated, one day I thought there has to be a better crimper out there…enter the Xuron #494 Crimping Pliers.
North American made. Easy to use. They work like an absolute dream. Affordable to any budget and you will love the fine tips that can get into tight spaces especially if you like working with fine wire. They really are a multi use plier to me, as I use them daily to tuck my double wrapped loop ends in to avoid jewelry getting caught and they flatten my beading threads to go through needles so much easier.
They are always on my desk with my other favorite "go to" Xuron® tools, the #2175 Maxi Shear™ Cutters and two #475 Short Nose Pliers. Designing beautiful jewelry is made so much easier with reliable well made tools. The added bonus here is…they won't break your budget."
Lena's work can be seen on Facebook and Instagram and purchased on Etsy.
How easy is the Beading Crimping Pliers to use?
Here are the simple steps along with a video demonstration.
✔️ Position crimp tube in "crimping" station and squeeze – for the most secure result, be sure the two wires are on either side of the tube so that the crimping "tooth" can be set between them.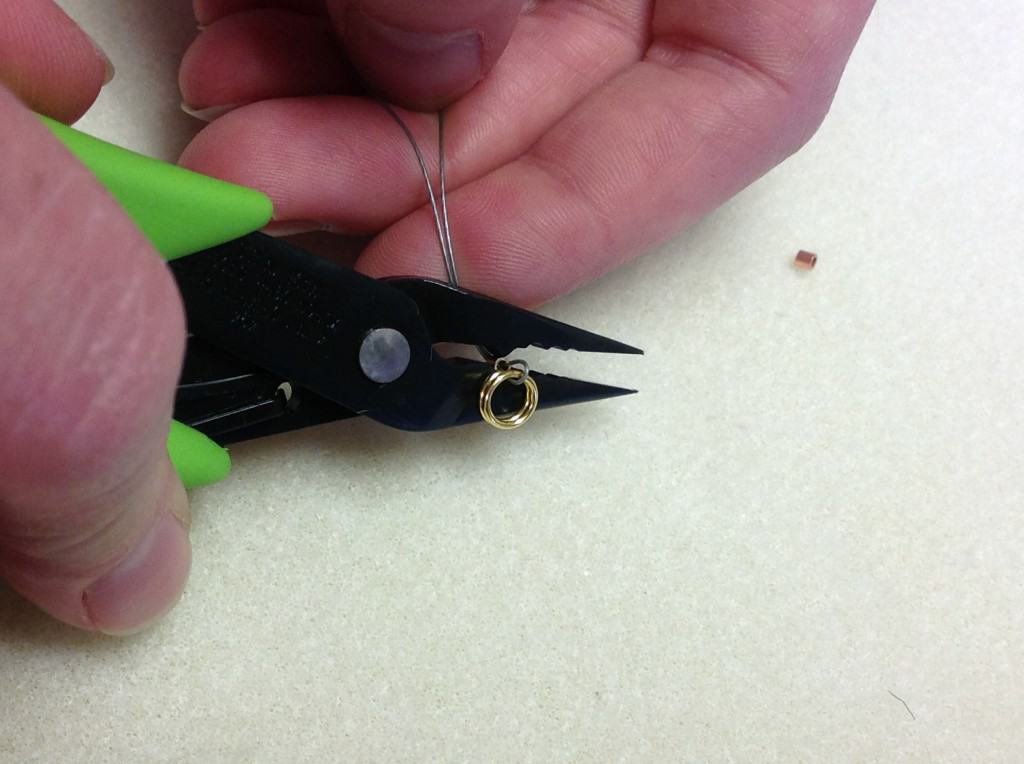 ✔️ Rotate the crimp 90 degrees and place in the appropriate (1, 2 or 3 mm)  "folding" station and lightly squeeze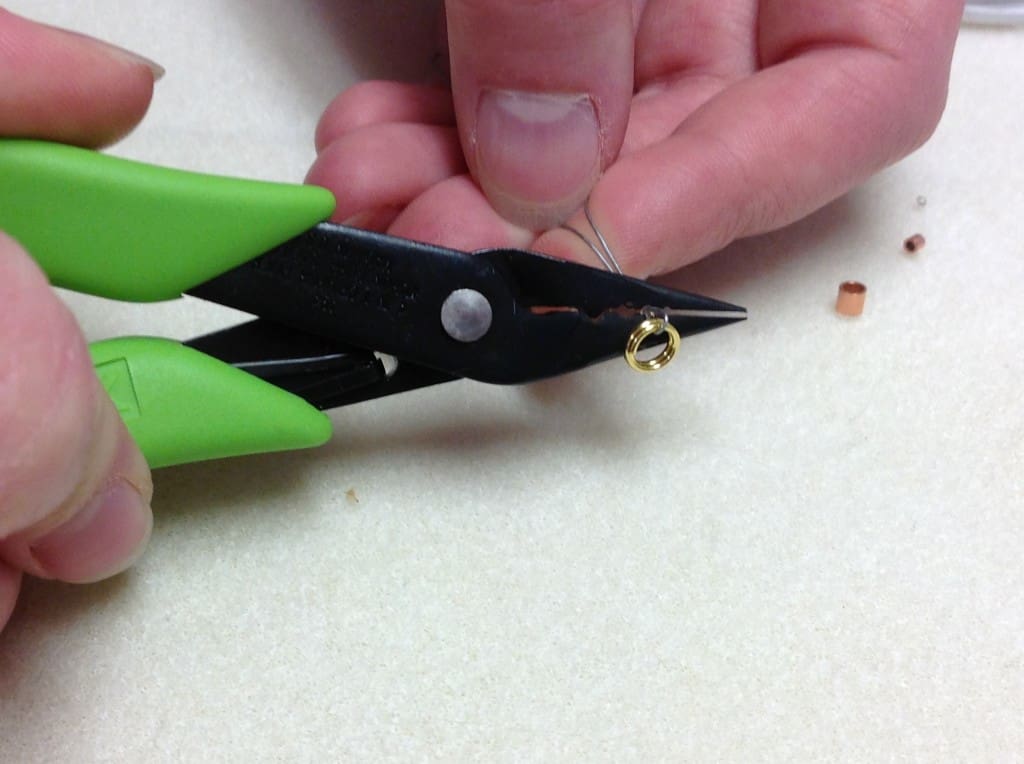 ✔️ Chain Nose Pliers tips can be used to pick up crimps, finding and small beads — this is my favorite feature!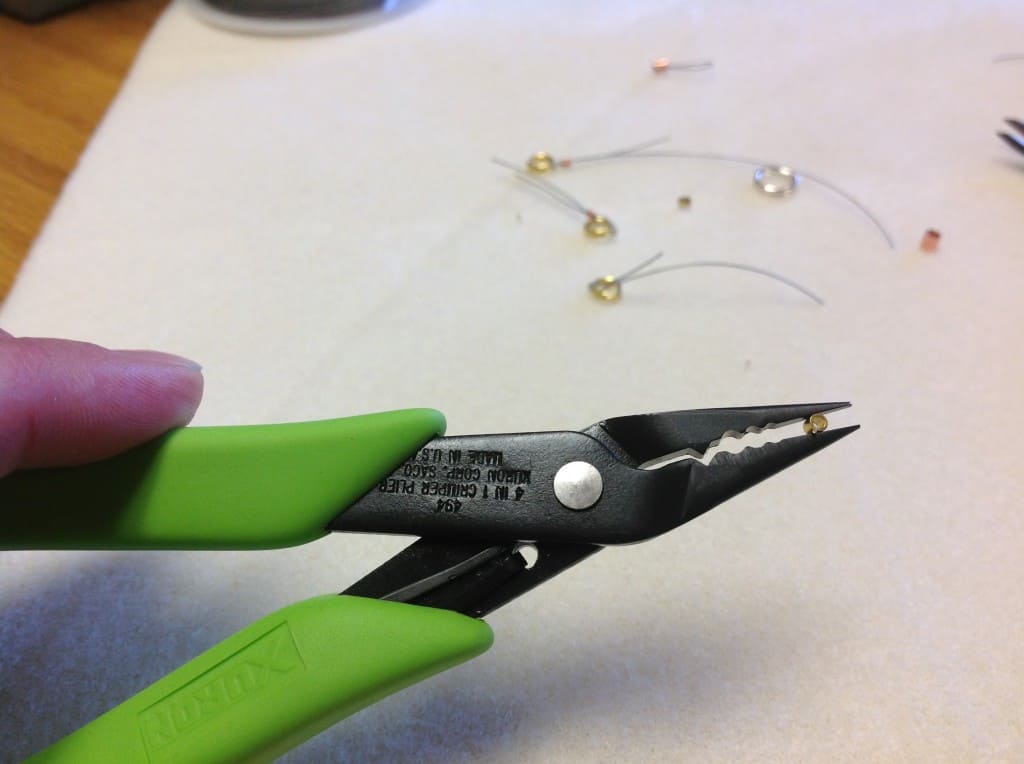 Saves on Space and Money

Meredith McKenna, owner of Sin City Beading and Jewelry Design, says, "I absolutely love that I only need this one pliers and I can grab any of my crimp tube sizes and it will work! It saves on space and money since I don't need to purchase multiple tools!" (Find Meredith on Instagram: @princesspms1 and on Facebook: @SinCityBeading.) 
See our how-to-use-a-bead-crimper-pliers demonstration video:
---
Announcing Our St. Patrick's Day Giveaway!
You could win a green-handled Xuron® Model 494 Bead Crimping Pliers!
This week only, in honor of St. Patrick's Day, we'll draw one subscriber from our Jewelry Making Tools Newsletter list to receive a new, direct-from-the-factory, 4-in-1 Bead Crimping Pliers.
Have you subscribed? If not, use the form below to subscribe, and become eligible to receive this useful Xuron® tool! Make sure to also confirm your email to complete your subscription.
---
Xuron® Tool Giveaways, Jewelry/Beadwork Tips & More!
Register for our FREE updates
We'll send you a periodic update.
Don't worry, it's not the least bit annoying.
---