In the jewelry world Xuron® tools are known for their orange handles.  There are two tools in particular, the 410 Micro-Shear Flush Cutter® and the 2175 Maxi-Shear™ Flush Cutter.  These two have been in the jewelers tool box for sometime now and are highly regarded.
The 410 and the 2175 are really quite different.
Xuron® Model 410 Micro-Shear® Flush Cutter
The 410 -Micro-Shear® Flush Cutter is petite and can cut up to an 18 ga soft wire and will cut beading cables like SoftFlex® with ease.  This is the perfect tool for a jeweler who loves bead stringing.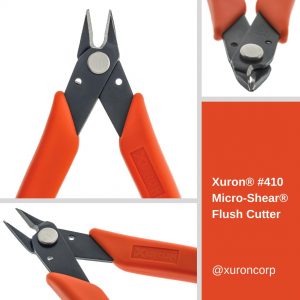 Xuron® Model 2175 Maxi-Shear™ Flush Cutter
The 2175, below,  is a hefty fella' and is fabulous for cutting larger gauge soft wire up to 12 AWG (2 mm). This is a great "go-to" cutter.  The Model 2175 Maxi-Shear™ Flush Cutter is perfect for the jeweler who works with a wide range of materials. It's also a great tool for metalsmiths! Use it to cut lead came for stained glass work, wood strips for basket weaving and chair caning, and nylon cable ties. The handles are shaped and sized to provide just the right amount of leverage, and it will fit nicely in your hand. ⠀
Here is a quick video demoing the two tools, check it out! (And stay tuned to the end for close-ups.)
We regularly provide product updates like these on Instagram, Facebook, and Twitter. And we also LOVE to feature your work! Connect with @xuroncorp on Instagram and Facebook, and/or @xuron on Twitter.
Did you know that we also send out a Jewelry Tools Newsletter? And offer periodic giveaways to our subscribers? Sign up at MakeItXuron.com.