Updated April 22, 2022
This article was originally published on our Blog in September of 2017. We are rebroadcasting it because the content is still very relevant and 2022 represents the 33rd anniversary of our introduction of the Model 2175B Track Cutter to the model hobby market. Thank you for 33 years of support and encouragement!
Tom's Corner
Tips, techniques and commentary from Master Model Railroader Tom Piccirillo
Model railroad track comes in a large assortment of lengths and curve radii. Even so, most track layouts still need some custom-sized pieces to fit together without kinks, and sections of flexible track need to have rails trimmed to length.  Cutting track to size is usually required, and modelers find it difficult to cut the metal rail . . . unless they have the right tools, like the Xuron® 2175B and 2175M Track Cutters.
These pliers-type tools come in two styles: one horizontal (2175B) and one vertical (2175M).
For track that has not yet been installed on your layout, use the Xuron® 2175B Track Cutter.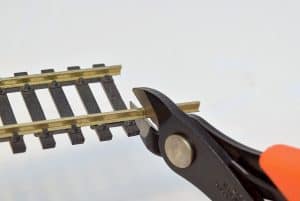 The jaw blades are designed to cut through the rail from top-to-bottom. The cut ends of the rail are practically burr-free, so clean-up is not required. One end will be flush, straight and smooth; the other will be rough. Turn the tool around and cut again to clean up the rough end. This tool will cut solid nickel-silver or brass rail up to code 100 (.100") high. It's better to first remove the ties in the cut location; you can trim them and install them under the rail joints after installation of the track on your roadbed.
When track has already been installed on your layout, and you're making additions or changes to the track arrangement, you need to use the Xuron 2175M Vertical Track Cutter.

Designed to be held in the vertical position, the 2175M enables you to cut rail without damaging the ties or roadbed.  A couple of light swipes with a fine-tooth needle file will clean-up the rail ends. You can also use this powerful cutter on solid nickel-silver or brass rail up to code 100.
A third type of track has roadbed and track supplied as integral, snap-together sections. Bachmann, Atlas,  and Kato are makers of this type of track.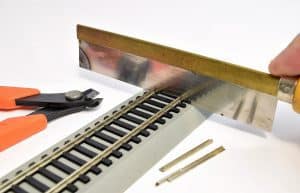 Sometimes, you can easily remove track sections from the molded ballast roadbed. You then use the Xuron 2175B Track Cutter to cut the rail. If you cannot remove the track from the roadbed, use the 2175M Vertical Track Cutter to cut the rail. The roadbed can then be trimmed to match the track with a fine-toothed razor saw.
What type 0f model railroad track are you using and how do you cut it?
Giveaway Time for Model Railroader's Toolbox Subscribers!
Periodically we offer a tool or set of tools to a subscriber randomly drawn from our mailing list. Our next giveaway will be the Track Cutting Duo, both the 2175B and 2175M as described above.
If you're already a subscriber, the only requirement is that you open and read our emails … that's it! Entry is automatic for active subscribers.
If you're not yet subscribed, please use the form below. Anyone who subscribes (and confirms) by midnight, May 22, 2022 will also be automatically entered.
We'll draw the winner's name on May 23, 2022. If your name is selected as the winner, we'll send you a personal email after the drawing date to let you know you've won. You will need to respond within 48 hours to claim your prize, or your prize will be forfeited and a new winner's name drawn.
Xuron® Tool Giveaways, Model Railroader Tips & More!
Register for our FREE updates
We'll send you a periodic update.
Don't worry, it's not the least bit annoying.