Gate cutters are essential hand tools for injection molders for trimming molded parts free from the gate.
While there are many types of gate cutters available, Xuron Corporation's Model 2175A Plastic Cutter is a cost effective, high quality option for injection molders.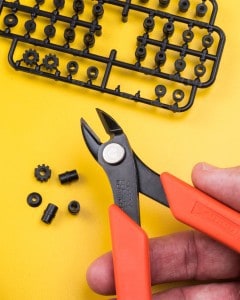 An important element to gate cutting is being able to cut flush to the molded part and cut cleanly in order to remove the part without damage. Then there's the human element. The cutter needs to be comfortable and easy for the operator to use for an extended amount of time.
Xuron Corporation's Model 2175A Plastic Cutter offers precision cutting and a user-friendly design.  The handles are ergonomically shaped to fit most hand sizes.  Our handle grips are made from a soft, non-slip material and a built-in return spring brings the tool back to the open position after each cut.
When selecting a gate cutter, keep in mind that with a XURON® brand cutter you get Micro-Shear® blade bypass cutting technology – invented by Xuron Corporation.  This means a smooth cut on the finished parts because Xuron's cutters cut by shearing as opposed to compression. 
All XURON® brand cutters are made in the USA and available through our worldwide network of Authorized Distributors.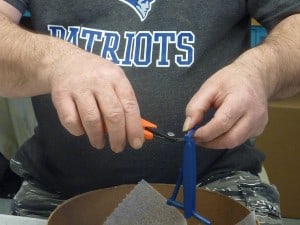 Photo credit to Advantage Plastic Products.
Contact us for an in-house demonstration or to be referred to an authorized distributor in your area