In my lifetime as a scale modeler I've used just about every conceivable type of work space: A shelf in a spare bedroom closet, TV dinner tray, desk, dedicated cabinet, as well as large spacious workshops.
I've spent countless hours at my workspace from periods lasting just a few minutes to a marathon lasting hours at a time.
What you can build depends much upon what space you have available to you. At some point the space needed may require you to seek a larger venue or modify your work area to accommodate the project at hand. But, for the most part, if you build in sequence/sections of the project you won't need a massive amount of room. It's when you combine those sections that you might find more space is required.
That said, even while sitting in the car waiting for someone, you can do a lot of the prep work … such as parts removal, clean up and test fitting. Have a Sharpie marker handy to mark the larger parts inside, where the mark can be seen after assembly. This will keep you from getting those parts/assemblies confused later on. Another method is to write the part number on a piece of masking tape and either stick the part to the tape or wrap the tape around the part.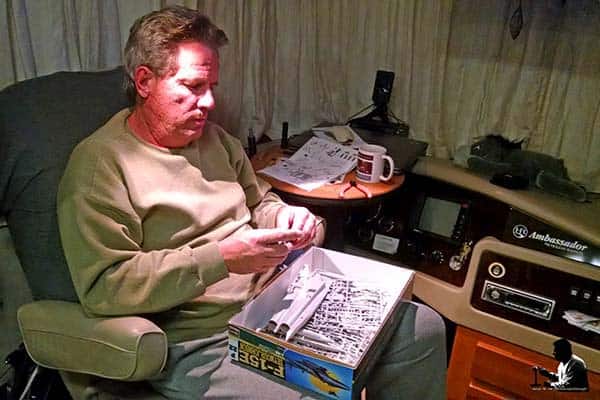 Little steps/assemblies allow you the versatility of building scale models almost anywhere. At times I've built during my lunch break at work, packing the necessary parts and tools in my lunch box, along with my lunch. Some light model building while I ate a light lunch helped me to relax during a time when my job was most stressing. It also helped me to introduce the hobby to coworkers who were often astonished at the level of detail some projects required.
I've even sat on an airliner during a long flight and used Alpha Abrasives sanding and polishing sticks to clean up parts. A moistened piece of paper towel that I brought along and some water from a bottle provided during the beverage service allowed me to wipe down the parts I was working on to keep any dust in check so not to offend those sitting next to me.
You don't need a large toolbox for mobile scale model building. I usually grab my Xuron 2175ET Sprue Cutter and Model 450 Tweezernose Modeling Pliers, some sort of adhesive, a sanding and polishing stick or two, and some paper towel to clean up any mess.
So to answer the question … it's possible to build a scale model just about anywhere and anytime. What's your scale modeling setup and do you also 'model on the go'?