Tom's Corner
Tips, techniques and commentary from Master Model Railroader Tom Piccirillo
One of my favorite hobby activities is rebuilding old model railroad equipment that I have acquired over the years from friends, estate sales, and flea markets. I think it's really cool to transform what appears to be a pile of junk into a high quality model. So, the time came to restore a beat-up O scale brass model of a Pennsylvania P54 coach that's been in storage for about 35 years.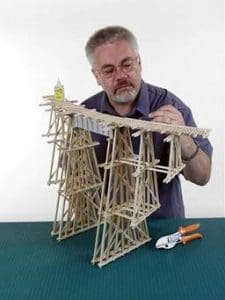 While placing the model on my workbench, I got to thinking that, when you look at all the minute detail being applied to railroad models, you can't help but notice that they have a jewelry-like quality. It's true . . .  many of the processes used to fabricate the various components that go into detailing a locomotive, passenger car or freight car are the same as those used to produce jewelry. For example, the art of lost wax casting is a process that produces miniature parts in brass with remarkable detail and accuracy. Obviously, tools designed for use in the jewelry industry would be ideal for use in assembling highly detailed railroad models, as well.
Just as factories equip their workers with the tools needed to fabricate, position and assemble miniature components into high quality models, the scratch builder or rebuilder can benefit from the use of professional quality tools to make or refurbish high quality models in his own workshop.
Many of the parts on this model needed to be soldered back in place; they were hanging loosely . . . ready to fall off. Over 51 years of model building experience taught me that, to achieve the best results, I would need to use precision-made pliers to hold these parts while soldering them back in place. I used a Xuron® Model 485 Long Nose Plier to hold the model brake rigging components in position during these soldering operations.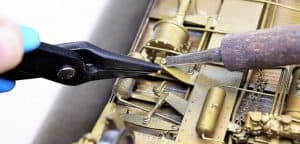 This plier has fine tips that are precisely shaped to the contour needed to carefully grasp and position these detail parts during re-assembly. The jaws extend into hard-to-reach places, and the comfortable rubber handles let me apply just the right amount of pressure to hold the parts gently, yet securely. Plus, the smooth jaws prevented marring the base material. Xuron® brand  precision-made pliers make it possible to restore old models to perfect condition.