Tom's Corner: Tips, techniques and commentary from Master Model Railroader Tom Piccirillo
Somerset County Traction System's huge interurban combine had been in the shop for two months. "Ol' number 36" (as she is affectionately called by the shop crews) was being rebuilt from the rail up. She got new trucks, new motors, new underbody equipment, new seats, new lights and a new paint job in brilliant Traction Orange. Finishing touches involved installing the handrails . . . now that the paintwork and lettering were complete.
Even in O scale (which is 1/48th real size), handrail stanchions are miniscule cast metal bits that get placed into tiny holes drilled in the car's door frames. Installation involves picking up the stanchion, dipping the stud-end into a small puddle of super glue, and then pushing the stanchion into the drilled hole, making sure the holes for the railing line up properly. This has to be done without the stanchions flying off into space and without crushing the soft metal from which they're made.
This job would be difficult to perform without the proper tools. Thankfully, Xuron Corp. makes the right tools for such applications.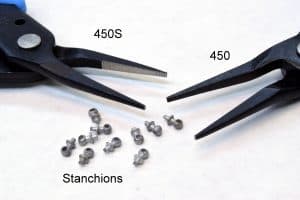 Using their Model 450 and Model 450S Tweezer Nose™ Pliers, installation of the handrails is a "breeze." All Xuron® pliers have finely-shaped, tapered jaws that align perfectly with each other for a secure, "no-twist" grip. Fine serrations in the jaw surface of the Model 450S TweezerNose™ Pliers let you pick up and hold objects gently, yet securely, without excessive, damage-causing pressure.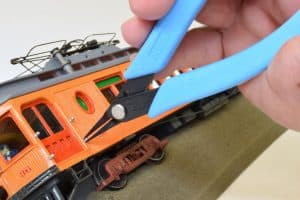 The smoothly operating pivot-points are optimally placed for just the right leverage, and the handles have just the right "feel," so that you can apply the gentle, controlled grip you need to hold small, soft parts without damage.
After the stanchions were in place, it came time to install the half-hard brass wire used for the railings, so I switched to a pair of Xuron® Model 450 pliers. These pliers have the same configuration as the #450S, but the jaws have smooth surfaces that let me pick up and insert railings without leaving tools marks. A slight squeeze of the stanchion bulb with the #450 pliers secured the railings in place.
Well, here's Ol' number 36 ready for the evening commuter rush. She'll be making her way from Fanwood to Lambertville on the SCTS, keeping her passengers safe and comfortable on their way home from the office.