The perfect pliers are right at the end of each of your arms…your fingers. Well, maybe they're not the most perfect pliers…let me explain why.
As strong as your fingers are, they don't have the strength and rigidity necessary to do many of the tasks you want to do. You might have fingers that are too short, too fat or they might lack the dexterity necessary to perform delicate tasks. My fingers don't have the dexterity they did in my youth so I reach for a tool suited for the job.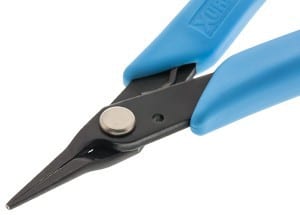 A quality set of pliers gives you the mechanical advantage necessary to work with tiny delicate objects, strength where you need it to hold on tight, and the ability to handle something too hot or too cold for your fingers alone. You'll definitely want pliers that offers precision, reliability and comfort. If your task is repetitive, you'll want a tool that feels like a natural extension of your hand and doesn't induce cramping.  Xuron's pliers were designed to meet these stringent requirements, meaning you can confidently put them to use in your hobbies, crafts, and projects.
Let's talk a bit about precision and why it is so important.
Like your fingertips, you want the pliers tips to come together evenly … matching up every time. You don't want one tip wiggling past the other; they must stay aligned to easily pick up and hold it firmly until released. Inferior pliers often have jaws that don't hold their alignment; over time they take on a scissors-like action, totally worthless for holding or bending. Another thing to look for is that the contact surface between the jaws is consistently aligned and strong along the whole length of the jaw.
In the search for good pliers I've tried just about everything. As hobbyists, we often require a tool to do a very delicate task that requires a great deal of holding power, without damage to what the tool is holding. For example, when I scratch-build with delicate photo-etched parts, I often have to repurpose a part for something other than it was intended. This often requires reshaping, and long before the invention and release of the 9180ET Pro PE Scissors, I had to sand those parts. This required a pliers that held firmly and provided great control, while not marring the part being held.
So when you're needing to hold onto something that your fingers or other tools can't, look for a great pair of precision modeling pliers.
View all of Xuron®'s Precision Pliers.