Xuron Corporation's 9000 Series precision wire cutters provide durability, ergonomic design and excellent value.  Offered with  oval , tapered and extra-tapered head configurations, these cutters can be used for a wide variety of applications from trimming component lead wires to copper wire to telecommunications cables.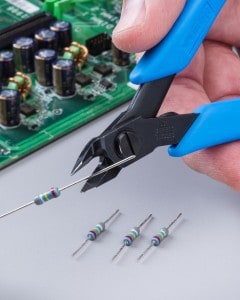 The 9000 Series cutters are manufactured from .120" (3 mm) thick alloyed steel that has been heat treated to Rc 56-58. The cutting edges are ground on computer controlled equipment, ensuring a consistent and reliable result.  
How the cutters fit in the hand and the level of comfort they provide is very important, especially when used in high volume manufacturing areas. The hand grips are soft, but not slippery and they are optionally available in an ESD-safe material that meets both ANSI/ESD.S20.20 and DOD HDBK-20 specifications. Two different handle lengths are available (5", 127 mm and 6", 152.4mm) to accommodate different hand sizes. Xuron Corp.'s unique return spring is responsive enough to open the tool after each cut, but light enough that it does not strain the hand.
 With a cutting capacity of up to 12 AWG (2 mm) soft wire, and an average list price of under $30.00, these precision wire cutters are competetive with any of the higher cost brands on the market today. And, they are manufactured in the USA.
These, and all Xuron® tools, are sold through a worldwide network of Authorized Distributors. For a distributor referral, or a product demonstration, please contact your local Xuron Corp. Manufacturer's Representative (USA only, all other inquires can be directed to, sales@xuron.com).