Scale Models cover different subjects, eras, scales and of varying quality. You'll find that modelers come from different backgrounds, various ages, physical size and scale modeling ability. Mix the two and you have a diverse group.
Scale modeling tools also have various sources, applications, sizes and quality. As a modeler I have quite a large assortment of tools that I have accumulated over the years. Some have one specific purpose or task, while others multi-task. It seems that those which multi-task are of lesser quality and definitely well worn because many of the tasks they are being used for, they were not designed to do…but hey, we're a frugal bunch, so less spent on tools meant more left to buy models.
That was very true when I was getting started in this hobby, but as time passed the price of those kits surpassed the price of the higher quality tools that I avoided buying. Something that I noticed, too, was those cheaper tools weren't doing the job I wanted and in too many instances they caused more expense in time, and in some cases, money, when they didn't do the job properly.
Modelers have sought after kits with greater and more accurate detail and they got what they asked for. This added to the cost of the kit, but it's something they were willing to accept. With this advancement came greater challenges in working with the parts so as not to damage them during the assembly process.
Those old cheaper tools I had used for years just weren't up to the task. They were dull, fat, short and awkward to use. Given what I was spending on these kits, decals, and aftermarket, I needed to take another look at the tools I used to assemble because it was costly when the tools I was using did more damage than good in the build process.
One of the things I learned was that when I started using higher quality scale modeling tools, I didn't need as many tools to get the job done. Some multi-tasked, but even those that were specialized did the job better and the need for another tool to complete the task was eliminated.
For example, the Xuron® 2175ET Pro Sprue Cutter removed parts from the sprue so cleanly that I didn't need to use as many other tools to sand and polish smooth to remove the blemish from the sprue tag. I also wasn't breaking as many delicate parts when separating them from the densely packed sprue.
I probably have dozens of pliers, micro, standard and even extra large. Most were made in Taiwan, Pakistan, China or India. They were cheap enough, but they weren't necessarily good at what they were purchased to do. Most mechanics and electricians tools are being used to build models, but they have a tendency to do more damage to the parts they are used to hold.
Here again if you have a few high quality tools you can eliminate several lesser quality tools from your workbench. Put them back where they belong…in the toolbox in the garage, or pass them on to the kids.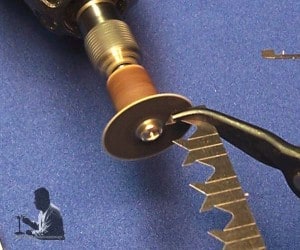 Those who have watched me use a pair of Xuron® 450BN Bent Nose pliers to hold a piece of photo-etch that I then trimmed using a sanding disc on a rotary tool were amazed that the pliers never let the part slip or the delicate piece of PE get damaged or flung away, never to be seen again.
Of course, now with the 9180ET Pro PE Scissors I can trim those PE parts precisely without the need for the sanding disc and rotary tool to fit PE parts that set into a recessed area in the styrene part.
So take a look at what you're doing and what tools you're doing it with. Are they as good as they should be? If not, take a look at those precision hand tools offered by Xuron!