Ashley Bunting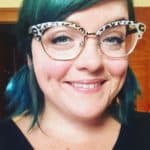 I am a Portland, ME based jewelry designer. I have been making jewelry my whole life. Growing up with an electrician for a father, I was always digging through boxes of scrap wire and metal bolts and bits. My grandfather was a general do-it-all man and his workshop was an incredible place. The hundreds of tiny drawers filled with washers, screws, doodads, and light bulbs amazed me. I inherited the family love of baubles and parts. I spent my college years attending The University of the Arts where I received a BFA in sculpture. In school I discovered my appreciation of the hand-held object and explored the connection we feel towards objects.
Jewelry is precious; it can remind us of a place, a time, or a person. It is a tiny object that expresses who we are. My jewelry is primarily made from vintage components. Vintage has a wonderful nostalgia and a solid well-made quality. I collect metal pieces, chain, Lucite flowers, and sequins. I bend, form, glue, stack, and rivet my components together. My jewelry ranges from bold statements pieces to everyday wearables.
Until 2013 I worked at The Beadin' Path in Freeport, ME where I was the head designer, taught classes, developed new products and traveled as a Sales Representative. I now work as a self employed jewelry artist and I am the Brand Ambassador for Xuron Corp. an incredible hand-tool company. My designs have been featured in top jewelry magazines and my new book, Fiber & Cord Jewelry has just been published.

Have you met Kristal Wick? Kristal is an internationally award winning designer and official worldwide CREATE YOUR STYLE Swarovski Ambassador.  She is a creative expert in numerous mediums; known for her work in silk, fibers, crystals, metal clay and much […]

Brenda Schweder is an artist, author, teacher, personality and inventor of the Now That's a Jig! For years Brenda Schweder has been a huge supporter of Xuron Corporation.  Her objective praise of the Xuron # 2175 Maxi-Shear™ Flush Cutter has made […]

November. We all look forward to turkey, stuffing and cranberry sauce.  Many of us make our list of thankfuls and share our blessings.  Here at Xuron Corporation November reminds us of our humble beginnings and emphasizes the incredible growth we […]

It's officially summer and for some of us that means creative projects get put on the back burner and beach trips are the focus. At least this is true for me! I am currently in the process of moving […]

Bent nose pliers (Xuron 450BN) are the perfect tool for making closed wrapped loops and opening jump rings.  This video demos those techniques and highlights the usefulness of the bent nose plier.