FIVE PRECISION SCISSORS MATCH HOBBY,CRAFT AND MODEL MAKING TASKS
February 24, 2020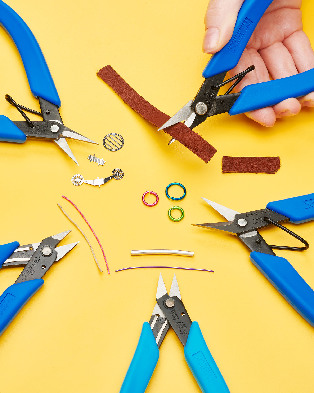 Xuron® Precision Ergonomic Scissors for hobbies, crafts and jewelry making
A line of precision ergonomic scissors for hobby, craft, and scale model and jewelry makers that come in five variations to match specific tasks are available from Xuron Corporation of Saco, Maine USA.
XURON® precision scissors for hobby, craft, and model and jewelry makers feature five specific types: Model 441 for cutting thread, yarn, and embroidery floss; Model 440 for thin soft metals, Model 9180 with a serrated blade for cutting slippery leather, Kevlar® and parachute cord; Model 9180NS with no serrated blades for cutting jump rings and leaving both ends flat; and the Model 9180ET which is especially designed for cutting thin photo-etch metals.
Ideal for left or right-handed use, XURON® Precision Scissors are made from hardened alloyed steel and feature return springs and soft rubber hand grips. Unlike conventional scissors, these five ergonomic scissors have no cumbersome finger loops are comfortable to use for hours at a time.
Available through local retail hobby, craft and bead shops. Made in the USA.