SPLIT RING PLIERS ELIMINATES NEED FOR MULTIPLE TOOLS
September 29, 2018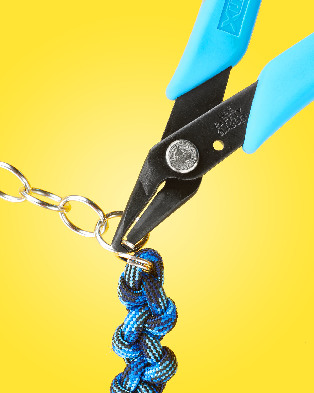 XURON MODEL 496 SPLIT RING PLIERS
A tool that is especially designed to open a split ring and hold it for assembling a wide range of products such as fishing lures, jewelry components, key chains and lanyards has been introduced by Xuron Corporation of Saco, Maine.
The XURON® Model 496 Split Ring Pliers is an ergonomic hand tool designed for the sole purpose of opening a split ring and holding it. Suitable for all size split rings down to #00, this handy pliers eliminates the need for multiple hold and pry tools and the potential for broken fingernails.
Essentially a long nose pliers with a curved catch tip and notched tip that team up to grasp and hold a split ring, the XURON Model 496 Split Ring Pliers is made from high carbon steel that is heat treated, covered with non-slip Xuro-Rubber cushioned hand grips, and has a return spring.
The XURON® Model 496 Split Ring Pliers are available world-wide through authorized Xuron Corp. distributors and are made in the U.S.A.