BEAD CRIMPING PLIER ELIMINATES MULTIPLE TOOLS
January 04, 2018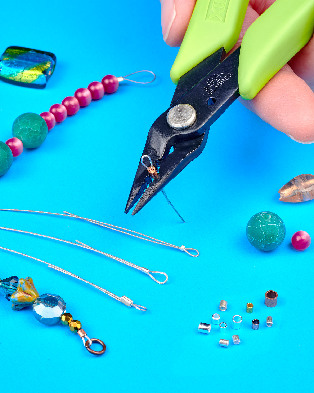 Xuron® Model 494 Four-in-One Bead Crimping Plier
BEAD CRIMPING PLIER ELIMINATES MULTIPLE TOOLS
A multipurpose bead crimping plier that is ideal for picking up small beads, findings, and crimp tubes and is designed for crimping them securely without excessive squeezing is available from Xuron Corp. of Saco, Maine.
The Xuron® Model 494 Four-in-One Crimping Plier features three built-in folding stations for 1, 2 and 3 mm crimp tubes and includes a chain nose plier for handling delicate beads, micro-crimps and findings. Designed to help users pick up, crimp and fold to create a secure crimp, this ergonomic tool is comfortable to hold and eliminates the need for multiple tools.
Allowing amateurs and professionals alike to precisely crimp and fold crimp tubes, the Xuron® Model 494 Four-in-One Crimping Plier with the chain nose tips lets users add an extra squeeze on the crimp tube, if desired. Especially designed for beading, jewelry making, and repair, it has soft Xuro-Rubber™ handles, is made from hardened steel with a non-glare finish, and has a built in return spring.
Made in the USA.