ESD-SAFE HAND TOOLS IDEAL FOR ELECTRONICS ASSEMBLY
July 25, 2017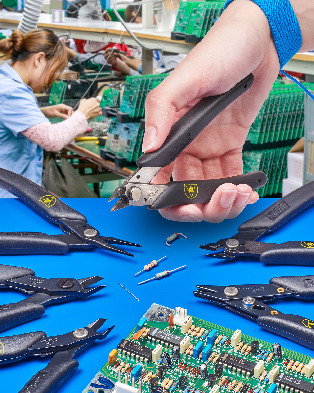 ESD SAFE HAND TOOLS
IDEAL FOR ELECTRONICS ASSEMBLY
A full line of precision ergonomic hand tools that include a broad range of specialty cutters and pliers which feature ESD-safe handles is available from Xuron Corporation of Saco, Maine.
XURON® ESD-safe Cutters and Pliers feature static dissipative hand grips and include Micro-Shear® Flush Cutters which produce clean, square cuts and come in a wide range of models with special features such as lead retainers and extra tapered tips. Pliers and lead formers also have ESD-safe handles and come in many variations for performing specific tasks.
Ideally suited for electronics assembly and repair, XURON® ESD-safe Cutters & Pliers are all ergonomically designed with optimum leverage, comfortable rubber hand grips, and Light-Touch™ return springs. The ESD-safe hand grips have a surface resistivity of 10(6) – 10 (9) ohms and confirm to ANSI/ESD S.20.20 and DOD-HDBK-263 specifications.