FLUSH CUTTER FEATURES ULTRA SLIM PROFILE
January 28, 2017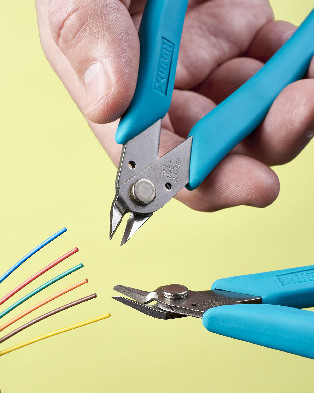 FLUSH CUTTER
FEATURES ULTRA SLIM PROFILE
A precision, ergonomic flush cutter that produces a square cut on soft wire and features an ultra slim profile to reach into tight spaces with maximum maneuverability is available from Xuron Corporation of Saco, Maine.
The Xuron® Model LX Micro-Shear® Flush Cutter is an ergonomic hand tool that employs bypass cutting technology to produce a clean, square cut on soft wire up to 16 AWG (1.29 mm) with minimal squeezing. Featuring an ultra slim profile, this flush cutter is ideally suited for jobs requiring and extremely sharp tip to let users reach into highly restricted areas.
Easy to maneuver with far less effort than a compression-type cutter, the Xuron® Model LX Micro-Shear® Flush Cutter has precision ground cutting edges and 0.100" thick high carbon steel blades that are polished for a bright, glare-resistant finish. Cushioned soft rubber grips and Light Touch™ return spring facilitate user comfort and this tool is capable of making millions of cuts.
Made in the U.S.A. and available through Authorized Xuron Distributors worldwide.