PRECISION FLUSH CUTTER IDEALLY SUITED FOR SMALL ELECTRONICS
May 01, 2021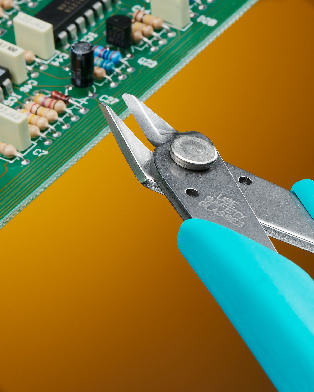 Xuron® Model LX Micro-Shear® Flush Cutter
A precision flush cutter that features a low profile cutter head to fit into tight spaces and employs bypass cutting to create square ends without wire deformation is available from Xuron Corporation of Saco, Maine.
The XURON® LX MICRO-SHEAR® Flush Cutter features an extremely low profile cutter head with a sharp tapered tip for reaching into tight spaces and requires much less squeezing effort than conventional compression-type cutters. Ideally suited for smaller electronics and electrical tasks, it employs bypass cutting to produce a clean, square cut on soft wire up to 16 AWG (1.29 mm).
Boasting cushioned rubber hand grips and an internal Light Touch™ return spring, the XURON® LX MICRO-SHEAR® Flush Cutter has precision ground high carbon steel blades. Measuring only 4.86" L (123 mm) and 1.70" (43 mm) closed between the grips, this ergonomic flush cutter can perform thousands of cuts and can also be supplied with lead retainers and static control grips.
The XURON® LX MIICRO-SHEAR® Flush Cutter is available through Authorized Distributors worldwide.