LXAS-Micro-Shear® Flush Cutter - Polished with ESD Safe Hand Grips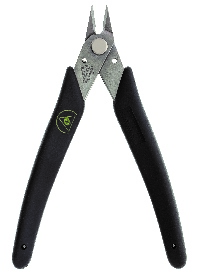 Our mid-range Micro-Shear® Flush Cutter combines Micro-Shear® flush cutting action with precision ground cutting edges, extra tough 0.100" thick high carbon steel blades and an ultra slim profile.

Blades are polished for a bright, glare resistant finish. Ergonomically sized for small hands and maximum maneuverability.

Flush cuts soft wire up to 16 AWG (1.29mm).
Type of Tool:

Project type:

Wire Harness Manufacturing
Telecommunications
Jewelry Manufacturing
Electronics
Electrical

Special Features:

Wire size:

30
29
28
27
26
25
24
23
22
21
20
19
18

Material(s):

Wire
Wire & Cable
Silver Wire
Gold Wire
Electronic Lead Wire
Electrial Wire
Cord Sets
Copper Wire
Annealed Wire
Monofilament

Remember that you can use our Rover Tool Finder to search for products by different criteria!