505STAS-Combination Wire Stripper/Cutter (stranded wire) with ESD Safe Hand Grips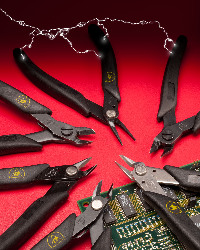 A unique, user friendly design incorporates wire gauge markings (12-26 AWG, 2.05-0.405mm) on the dial cam for quick and easy setting, wire stripping and cutting. Also, the cam acts as a handly closure "hook", keeping the tool in a closed position when not in use.

Features Xuron's Light-Touch™ return spring and cushioned Xuro-Rubber™ grips for comfort and control.
Type of Tool:

Anti-Static
Wire Strippers
Cutter

Project type:

Wire Harness Manufacturing
Telecommunications
Electronics
Electrical

Special Features:

Wire size:

30
29
28
27
26
25
24
23
22
21
20
19
18
17
16
15
14
13
12

Material(s):

Wire
Electrial Wire
Cord Sets
Copper Wire
Annealed Wire

Remember that you can use our Rover Tool Finder to search for products by different criteria!