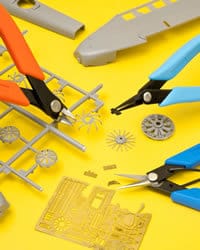 Xuron Corporation offers a variety of opportunities for hobby retailers to improve sales with our line of precision hand tools.
Brand Ambassador Program:
Product education and getting the product into the hands of your customer are keys to strong sales with Xuron® tools. To that end, full-time travelers Gerald & Shari Voigt, offer in-store product demonstrations and training at stops along their route. This is a perfect opportunity to invite your customers to see and use our complete product line. Request an in-store visit.
Xuron Corp. Hobby Retailer Facebook Group:
This is a 'closed' group where you can interact with our staff, demo team and other store owners. Have a question or an idea to share? Product application or warranty questions? Or do you want to know when our demo team will be in your area? This group is for you. Join our group here.
Hobby Retailer Directory:
Submit your business listing to be included in our searchable hobby retailer directory. This is a work in progress. Please check back within a few days to add your business.
Hobby Tools Blog and E-Newsletters:
We make it a point to publish information that will be useful to hobby enthusiasts on a regular basis. Subscribe to all blog updates or to individual e-newsletters in the categories that interest you most through our form on the right.