The WickGun™ Desoldering Braid Dispenser is a must-have for anyone who works with electronics. It's quick and easy to use, reduces finger burns and waste, and improves your productivity.
What is a WickGun™?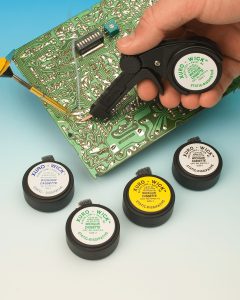 The Xuron® WickGun™ Desoldering Braid Dispenser is a handy device that lets you quickly dispense, position and cut-off desoldering braid using one hand. Your fingers never touch the braid, so there's no chance of being burned as the wick absorbs hot solder. This means the braid also stays clean and free of contaminants. A thumbwheel advances or retracts the braid and a trigger cuts it off after use. The WickGun™ is both ESD safe and RoHS and REACH compliant.
Replaceable/Interchangeable Desoldering Braid Cassettes
The WickGun™ comes factory loaded with a cassette holding one of four widths of desoldering braid. You can choose a braid width of .035″ (.88 mm), .060″ (1.524 mm), .076″ (1.9304 mm), or .110″ (2.8 mm). Each cassette contains 15′ (4.6 meters) of pure copper braid coated with a pure rosin flux, and ready for immediate use. Cassettes are also available separately, and can be easily switched if the project requires several different braid sizes.
How to Use the Xuron® WickGun™ Desoldering Braid Dispenser
With the WickGun™ in one hand, use the thumbwheel to advance a portion of braid. Place your hot soldering iron on the solder to be removed and once it is molten, place the braid on the solder and watch it wick up quickly and cleanly.
Great for Efficient Assembly Repair and Re-Work!
The Xuron® WickGun™ Desoldering Braid Dispenser is ideal for assembly re-work, field service repairs, and DIY electronics repair. With it, you can desolder five times faster than with other methods, while reducing your braid waste by 50%.
The WickGun™ Desoldering Braid Dispenser is available through authorized distributors worldwide. All Xuron® tools are manufactured in Saco, Maine, in the USA.
Limited Time Offer: Subscribe to Win!
Active subscribers to our Xuron® Industrial Tools E-Newsletter will be automatically entered to win the WickGun™ of their choice (based on the braid width mentioned above). If you're not yet a subscriber, sign-up today using the form below (and be sure to confirm your subscription). This offer ends January 7, 2022. Winner will be notified early the following week.