Five years ago I wrote a blog post about Xuron® Tools for 3D Printing. At that time, 3D printers were not readily accessible to the average consumer or small manufacturer. They were mainly used for making prototypes and everything about the process seemed intimidating (at least to me).
Speed ahead to 2020 and 3D printing has evolved. It seems there is nothing that cannot be created with this technology – even human organs and body parts (known as bioprinting). 3D printing in 2020 also gave way for many people to get creative during time extended time at home. We all saw stories of people making face mask extenders, face shields and more.

Flush Cutting Tools for 3D Printing
While 3D printing can now be done with a variety of materials, much of it is still done with plastic filament. It's here that a Xuron® Model 170-II Micro-Shear® Flush Cutter (seen on the right) comes in handy. Before inserting the filament into the extruder, it's nice to have a flush cut on the end because it makes it easier to feed. Our Model 170-II Flush Cutter does a great job here. You can also use it to trim the wispy bits of filament remaining on the printed part.
You'll Need a Good Needle-Nose Pliers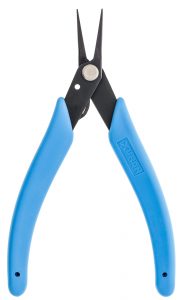 Pliers, too, are needed for breaking off the support materials from the printed piece and cleaning up the part. Our Model 450 TweezerNose™ Pliers (seen on the right) can do all of this and their long, thin blades conveniently reach into small spaces.
And, a bonus, use these same tools for 3D printing for light maintenance and repair work on the printer itself.
If you are 3D printing, feel free to share any tips by leaving a comment.
Original Post: 3D Printing And Xuron® Tools
Related: 170-II Series Micro-Shear® Flush Cutters in Four Configurations