Tom's Corner
Tips, techniques and commentary from Master Model Railroader Tom Piccirillo
Some people say, "It's all in the details." This is certainly true for award-winning scale models. Models are submitted for judging at contests, and much of the "score" needed to win an award is derived by the clean installation and proper placement of details.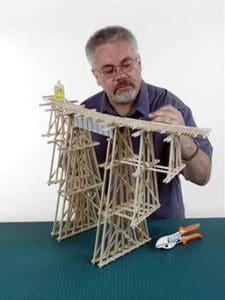 For example, full size piers are supported on pilings driven into a river bed. They are braced by wood beams that are bolted to them; however, many small-scale models are constructed by gluing the braces to the pilings. Any judge "in the know" (most of them) will notice the lack of bolt details and will penalize the model's score.
Scale-size molded-plastic bolts are commercially available, but are too tiny to handle with bare fingers. These tiny bolts need to be glued into tiny drilled holes, and usually at locations that cannot be reached with standard needle nose pliers. I found the best tool to use here is the Xuron #450BN Bent Nose Pliers.
The bent nose of these pliers holds the bolt at the perfect angle for dipping into a spot of glue and for inserting its shank into the pre-drilled hole. The handle angles away from the framework of the pier and avoids snagging the bracing.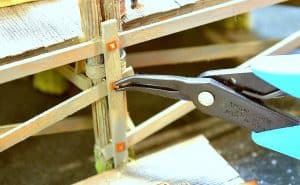 These pliers make it easy to place all kinds of details, like railings, hand wheels, roof details, locomotive parts, scale-size lights . . . even figures.
Here's a pigeon figure being placed on the chimney of a model building. The bent nose of the plier easily holds the figure at the correct angle for precise placement.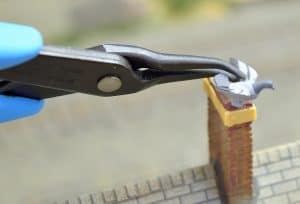 Top-scoring models show no signs of glue used in assembly. Unsightly blobs of glue ruin the realistic appearance of scale models, and judges keep this in mind when determining a model's score. So, it's important that the location of glue is not only precise, but also held to a minimum. That's where the Xuron #860 Dispensing Bottle is needed . . . it lets you apply just the right amount of glue exactly where you need it. Just fill the bottle (2 oz, 56.69 grams) with your favorite glue (works best with white wood-working glues) and squeeze to apply. Includes 3 nozzles . . . extra fine, fine, and medium for precise applications . . . plus a spout for large areas.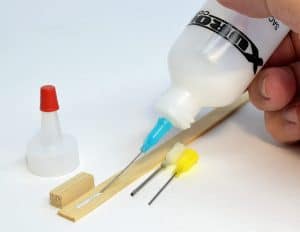 Have questions for Tom or want share your experience detailing a model railroad or diorama? Simply comment on this post and we'll be pleased to start a conversation!