Brenda Schweder is an artist, author, teacher, personality and inventor of the Now That's a Jig! For years Brenda Schweder has been a huge supporter of Xuron Corporation.  Her objective praise of the Xuron # 2175 Maxi-Shear™ Flush Cutter has made believers of many annealed steel wire wranglers.  The 2175 or as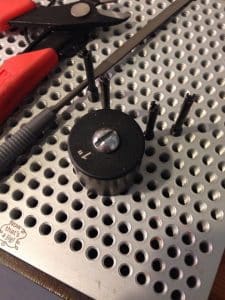 Brenda calls it, "The Butter Cutter", is the perfect balance of strength and precision.  Rugged enough to easily cut the hefty annealed steel yet petite enough in profile to get into smaller hard to reach areas.
Continue reading below to learn more about Brenda Schweder…
What inspired you to begin creating as a profession?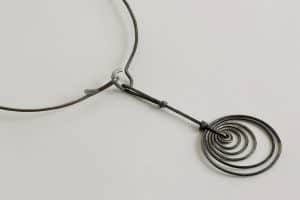 Imagine a Fashion Promotion college major starting her career in the mid-80's in shopping center marketing (pretty close, huh?), but then derailing herself with each subsequent (and short-lived) job (and their correlating descriptions), each further and further from fashion and/or anything having to do with creating with your hands. I had one of those (bad kind of) a-ha moments when I was actually disappointed that my designer suit and heels didn't land me a job with the local association for cement mixing companies. Wow! Talk about allowing yourself to bottom-out by seeking a job so far from your soul's desires! (SO not me!) I had always been a creative kid preferring art and writing to math and the sciences (a STEM child I was not!), so I had to re-tool my brain and get my engine back on the tracks toward the creativity that really feeds me.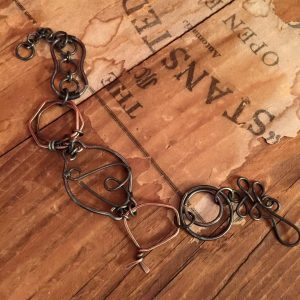 How did you start working with steel wire?
Steel wire? That was all Keith LoBue's fault! I took a few workshops with Keith and working with dark annealed steel basically stole my heart (more about that below)!
You are an inventor; can you tell us more about developing your inventions?
Everybody tells you that inventing is derived from necessity. That's true. But what I tell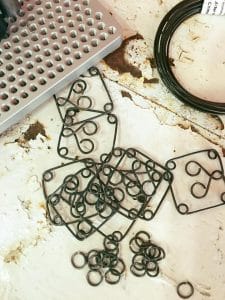 people is that the invention part is doing something about it. It's the chutzpah behind the thought, "If only there was Product X, it would solve Problem Y." It's like the Six Degrees of Kevin Bacon parlor game (or the more boring but just as true, Six Degrees of Separation idea). There are fewer steps to putting some new thing into the world than people think. But 'Step 4' is believing your plan is achievable, and 'Steps 5, 6 and 7' are working your way around the blocks created by initiating 'Steps 1, 2 and 3.' I'm a stubborn Taurus; if there's something I want to accomplish, I'll make it happen! (Of course, that doesn't mean things are hunky-dory every day, but this is true: A bad day working for yourself is better than 20 good days working for someone else!) This may sound a little arrogant, but I share it to give credence to the fact that—at least in my case—it takes more gumption and guts than brains and to invent.
What do you find the most gratifying about designing and creating?
There's a certain feeling makers get when they put stuff together in a way that's pleasing to them. It's this inner surge or chemical sumthin' that keeps me keepin' on. You know it when it happens. I'm sure it has (on the low end) made me a happy, happy person, and (on the high end) saved many, many lives.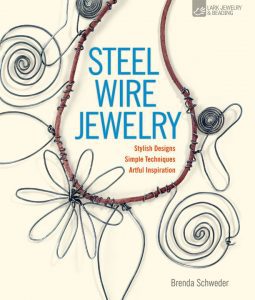 Besides jewelry making and wire working what are you passionate about?
All kinds of making. Actually that's not true. There are people who like to dabble in myriads of art arenas; I don't. I could care less about many mediums (come to think of it, it's mostly things that involve heat or water, LOL!). It sounds funny, but my love is in cold and simple connections. For example, watercolor, enameling and lampworking are media I've tried, but quickly left behind. I prefer direct control of my work. I think that's why I like working with wire so much. If I bend it here, it stays.  It doesn't melt or change chemical composition. I know what I'm getting!
What is your creative process? How do you develop new designs?
Even though in my book Steel Wire Jewelry I used illustrations to show process, I really don't design that way. For my found object work, I rely on the implied relationships of pairing disparate things together. I put the giraffe tzoszke inside the halved tollway tin toy, for example. Then I figure out how they'll stay that way. A lot of times, those pairings end up creating a narrative—sometimes humorous, sometimes heady.
Moreover, though, I'm always (what I call) harvesting ideas from patterns, magazines, and real life. It's just a part of my DNA.
What is something you love and why?
I absolutely adore people! Really! I find myself enjoying their quirks and foibles, their smirks and titters, the entirety of peoples' humanness. If I didn't do what I do (which I love, cherish and live by), I think I would be a social psychologist. I just love the science of behavior and what makes us all tick!
Remember to join in and watch Brenda Schweder's Facebook Live Videos!