Hard to believe, but the Xuron® Track Cutter (Model 2175B) is 25 years old!  We officially debuted it in the fall of 1988 at the (then) Chicago Model Hobby Show.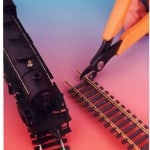 With the exception of our packaging, nothing about this tool has changed (if it's not broke, don't fix it). It remains one of our best-sellers and is now the standard for cutting Z, N, and HO scale model railroad track.
Since the Track Cutter sits on most every work bench and might be the closest tool to you when you need to cut something, it's easy to want to use it for anything and everything.  This is natural and perfectly understandable.
One job the Track Cutter will not handle well is cutting any type of hard wire or nichrome wire. If you've tried this you know, it leaves nice little half moon shaped dents in the cutting edge.  Solution for this — next time someone asks what you want for your birthday suggest a Hard Wire Cutter (Model 2193).
This handy tool will easily cut your hard wire and will leave a nice flat cut off end with no spike or burr.
If you have any tips or comments you'd like to share, feel free to leave a reply!